Midway World Finals Recap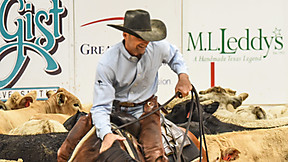 The first two rounds of the 2019 Seven Ranch Open and Non-Pro World Finals is in the books, and as always with the World Finals, they were action packed! These talented horses and riders that have gone all year long have been laying in all on the line to take home some of the substantial purse that has been generously given by our friends at the Seven Ranch.
In the first round it was Caitlin Rice marking a 226 aboard Metallika (Metallic Cat x Nyoka Pep), owned by she and her husband Scotty Rice. It was a tough run but also controlled allowing this flashy gelding to show off all of his talent! They collected over $6,000 for the win moving them up in the ranks. This is Caitlin's first time to haul to try to make the Non-Pro World Finals, and she made her presence known right from the start!
Caitlin Rice and Metallika
Reserve Champion of the first round of Non-Pro was Blakley Colgrove marking a 222 aboard her family's stallion Cat Man Blue (High Brow Cat x Quintain Blue). They are always a force to be reckoned with, and it seems to be the case once again in this World Finals!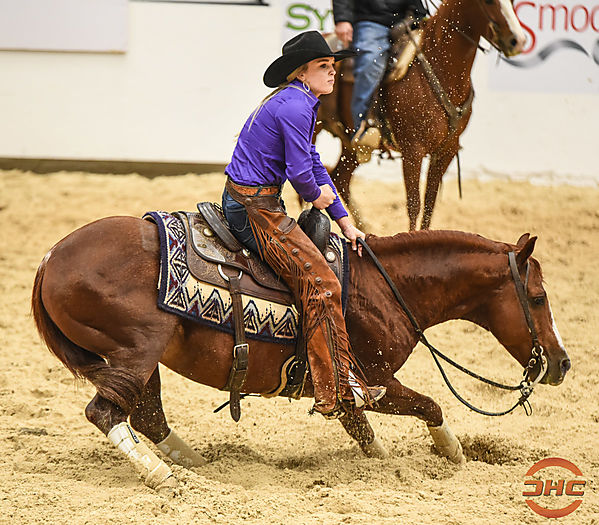 Blakley Colgrove and Cat Man Blue
Ali Good showed us all why she will be the 2019 Non-Pro World Champion in the second round, after having a little tough luck in the first. She and Cat Atat Cat (High Brow Cat x Miss Stylish Pepto) marked a 227 for the win making it look easy! Ali has had a ton of success at the Futurity so far, already making the Open Semi-Finals as well as competing in the World Finals. In all of this success she still enjoys showing "Charlie" the most, and this whole year has been an adventure for them!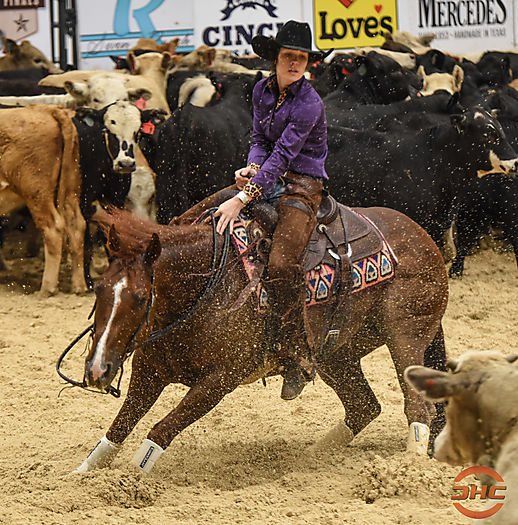 Ali Good and Cat Atat Cat
Reserve Champion in the second round was Blakely Colgrove once again marking a 222 riding her stallion Cat Man Blue. The two nights have now put her into the second-place spot in the ranks, it will come down to the last two rounds to determine who will be the 2019 Non-Pro Reserve World Champion!
Blakley Colgrove and Cat Man Blue
In the Open it has been Kenny Platt and Moms Stylish Player (Lizzys Gotta Player x Moms Stylish Babe), owned by Robert Tregemba, that have dominated the two rounds marking a 227 in the first a huge 230 in the second round! These two have been crowd favorites since the gelding was four and nothing has changed they still give us those big time runs and beautiful "Kenny Platt Stops" that give any lover of this sport chills. They have moved up in the ranks considerably already and we are looking forward to the next two rounds watching Kenny and "Sprout"!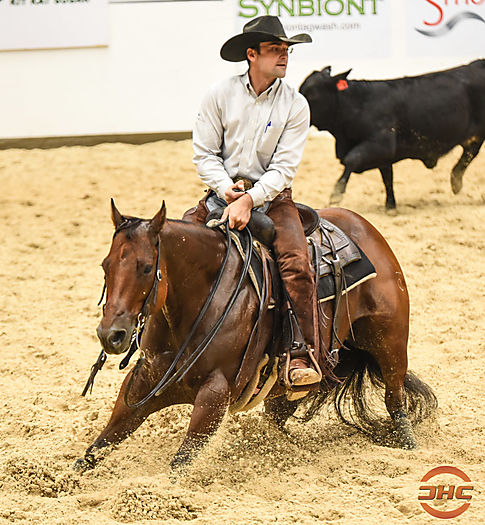 Kenny Platt and Moms Stylish Player
Reserve Champion the first round was none other than all-time leading rider in our industry, Lloyd Cox, riding the great mare Copperish (Metallic Cat x Stylish Play Lena), owned by Jimmie Miller Smith, marking a 221! This is another horse that we have loved from the beginning of her career and this is Lloyd's first time to qualify for the world finals as well.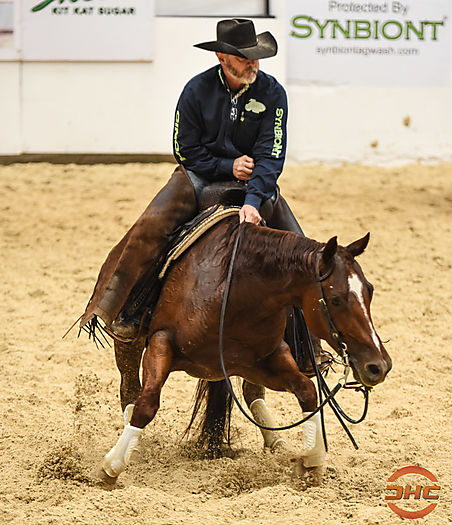 Lloyd Cox and Copperish
Reserve Champion of the second round was Tarin Rice and CR Gotcha Covered (Dualin Boon x The Catattac), owned by Joel and Jayne Colgrove, marking a 229! This team will be named the 2019 Open World Champions after the four rounds and they certainly looked like the world champions in the second round! They have been so consistent all year and the young stallion still looks just as good now as he did on day one!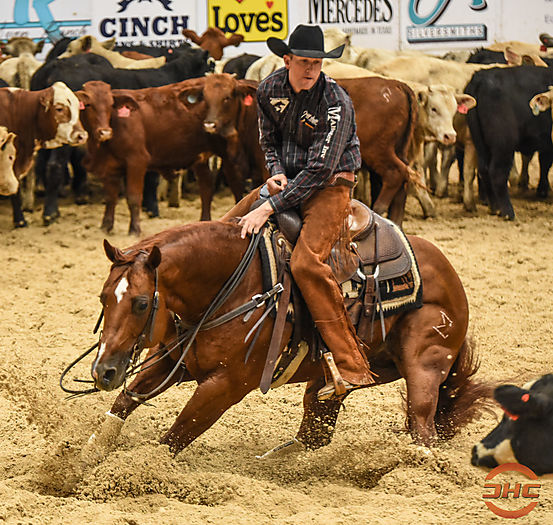 Tarin Rice and CR Gotcha Covered
This time of year is always exciting on many levels and the World Finals are a big part of that. The atmosphere is like no other and we are thankful to Seven Ranch for allowing this tradition to continue this year. There are still two rounds left to go, be sure to tune into all the action on CHC's Live Webcast!
.