Booth Takes Amateur Win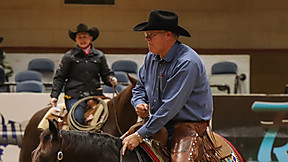 It was another big day in Fort Worth yesterday with the second day of the Western Bloodstock Two-Year-Old Sale, the Select Yearling and Broodmare Sale, the Amateur Semi Finals, and the Amateur Finals! There was a lot of hustle and bustle at the Will Rogers Complex that is for sure, and it was an important day for many.
There were five sets of Amateur Futurity Semi Finals shortly follow by two sets of finals where Roger Booth and Quaintrelle (Dual Rey x Autumn Kitty) that claimed the victory at the end of the day! They were early in the first set marking a 217 that held the lead through the second set! It was a long wait seeing if it would hold on to the lead, but it was a nice solid run in which the cute brown mare was able to show off her talents. Roger purchased the mare at the Western Bloodstock two-year-old sale last year, then took her to Hall of Fame trainer Morgan Cromer. She was shown in the Open at this year's Futurity as well, narrowly missing the Semi Finals with assistant trainer to Morgan, Ashley Bosack. It has been a busy show for her, but she has given it her all with every rider. This win started her career off on a high note winning $21,029 for the evening! Roger, like many others, was taken back by the fact that he indeed won the Futurity! He and his friends and family were all smiles as they brought in the Cowboy Trailer Sales trailer that he got to take home on top of everything else he received for the win. It is a lot to take in all of the sudden, but what a huge moment in his long cutting career! He has been dedicated to the sport for many years and, as always, it is wonderful to see hard work pay off! They were also the Senior Division Champions to add on to their amazing evening!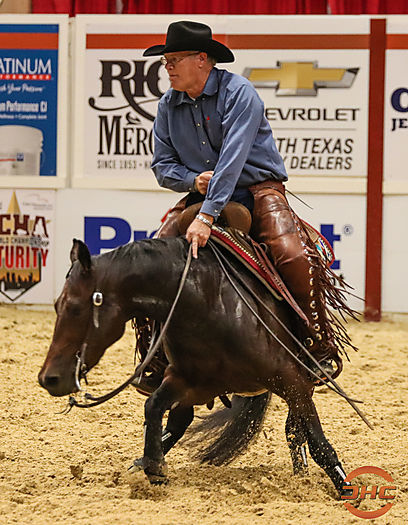 Roger Booth and Quaintrelle
Co-Reserve Champions were Grace Ornelas riding Mother Kwacker (Dual Rey x Kwackin Cat) and Carsen Pearson riding LHR One Smooth Pepto (One Time Pepto x LHR Smooth Jamie May) both marking a 215.5 to collect the $13,172 check! They each had fantastic runs as well, and their horses very stylish, it was no doubt a hard choice in those first few spots because these two young riders brought their A Game to the arena last night!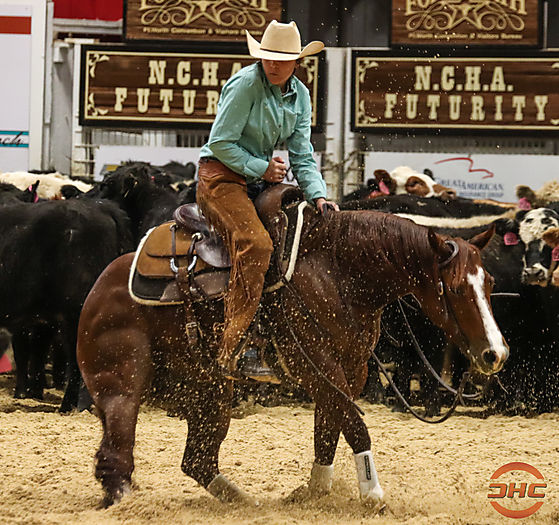 Grace Ornelas and Mother Kwacker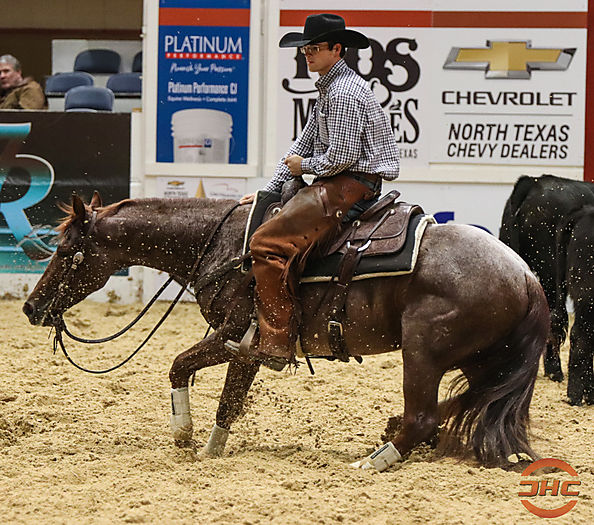 Carson Pearson and LHR One Smooth Pepto
The Gelding Division Champion was Metallic Again (Metallic Cat x Purrin Again), ridden by Marvin Marmande, marking a 209.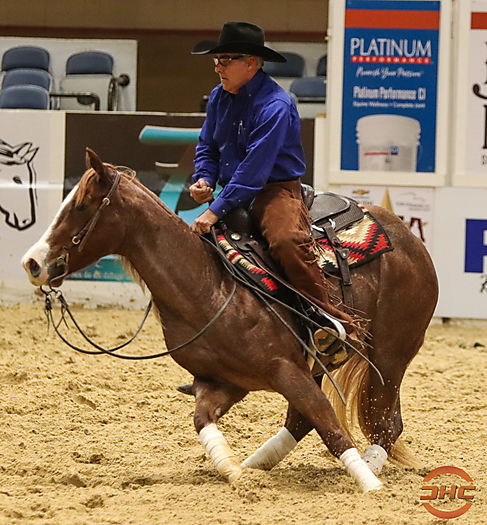 Marvin Marmande and Metallic Again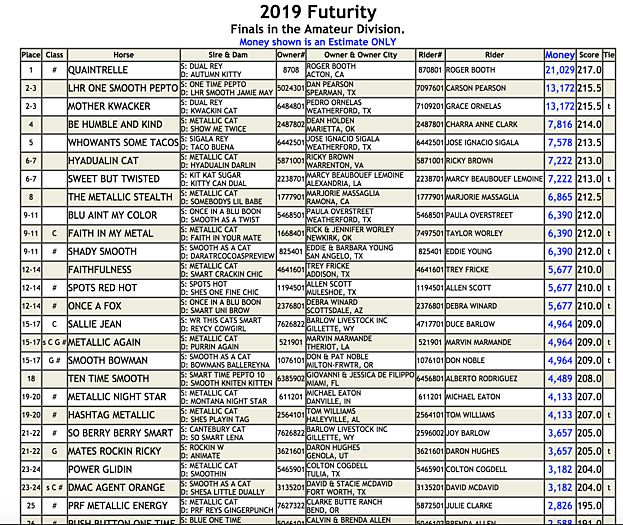 Today will be another big day with the Western Bloodstock Sales continuing as well as the Unlimited Amateur Semi Finals taking place in the coliseum, be sure to head into Fort Worth or tune into CHC's Live Webcast to keep up with all of the action!
.