Casey Crouch 2018 Zane Shulte Award Recipient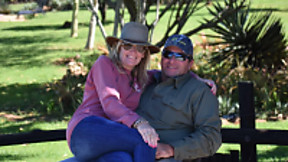 Each year at the NCHA Futurity, Thomas and Barbra Schulte give out one of the most meaningful awards. The Zane Schulte award was created in remembrance of and to honor their son. It is given to a trainer nominated by his peers who exemplifies the characteristics for which Zane is remembered: integrity, values, respect for their peers, contribution to the industry, and excellence in the arena. Former recipients include trainers Chubby Turner, Gaylon Wells, JB McLamb, Sam Shepard, and Buster Welch just to name a few. Since its beginning in 2001, a number of standout individuals have been given this award, and it means just as much to every single one.

This year the award is being given to Casey Crouch, a trainer who we all know and love. He and his family have done so much for this industry and made an impact simply through loving it and sharing it with others. He and his wife, Chelsea, have brought many new faces into the sport of cutting, surrounding them with a team like atmosphere and supporting them 110%! They are the biggest cheerleaders as well as being in your corner when things do not go as planned. When talking to anyone who has come in contact with them or ridden with them, they all will tell you how genuine this special group of people is and why it is no surprise Casey received this award.




Though it is no surprise for any of us, it was a huge surprise for Casey. He received a call one evening from Barbra Schulte herself telling him that he received this award, and he was instantly humbled. He is a man who takes most things to heart, and this one left him almost speechless. We have talked to him on a number of occasions as he has enjoyed a great deal of success in recent years as well as his son Chaser being named the most recent Senior Youth World Champion! Each time we speak to him, he is very thankful for the people around him that make it all possible. We know that the feelings are mutual with those special people to him, including customers.




As said before, there are countless people who are brought into this industry by Casey but more importantly who stay in this sport we love because of Casey. It is his integrity and commitment to the service of others that allows him to make that kind of impact on so many. We are grateful for the people like him who give us a standard to strive to be not only in this sport but also in life in general. When thinking of a person who exemplifies the values stated to receive this award, it is with no question that Casey Crouch is the picture of what it stands for. Thank you to the Crouch family for giving us all something to look up to. We wish nothing but the best for you, and congratulations, Casey, from all of us here at Cutting Horse Central!


.