Lee Garner, 75 years old passes away 1944 – 2020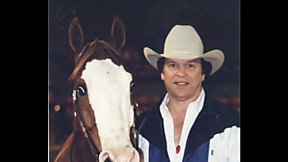 Lee Garner and Baldy Freckles. Sally Harrison photo.
(Partial Article Shared from nchacutting.com)
Ernest Levi "Lee" Garner Jr., 75, an NCHA Members Hall of Fame honoree, as well as the 1990 NCHA Non-Pro World Champion, the 1996 NCHA Non-Pro Futurity Champion, and a member of the NCHA Non-Pro Hall of Fame, passed away on February 11, in his hometown of Batesville, Miss.
It was Garner who put Batesville, population 7,500, on the map for weekend cutters, when he began hosting events at his covered arena there in the late 1980s. Although he was born 20 miles east, in Oxford, Garner spent most of his life in Batesville, where he established a home health care business.
As a teenager, Garner kept a horse and competed in rodeo events, but gave up rodeo and horses, when he accepted a football scholarship under legendary Ole Miss football coach John Vaught. "He told me I had to make up my mind, either rodeo or college football," Garner recalled. "That was a real quick decision. I was going to scholl on an athletic scholarship and I wasn't about to mess that up."
It was a fateful day in March 1986 that connected Garner with the sport of cutting. "I thought I would go down to Jackson and buy a Quarter Horse at the (NCHA) Area Workoff," he remembered. "I ended up buying eleven."......
Go to: nchacutting.com to read the FULL STORY
.