Cutting Horse Show Kicks Off in Ardmore, OK.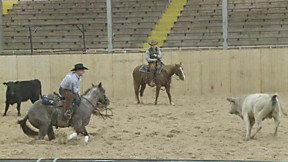 Story published by Joe Valdez KXII News Ardmore, OK
ARDMORE, Okla. (KXII) - Competitors from all over the world are making their way to Ardmore for the 11th annual Arbuckle Mountain Futurity, a horse cutting competition.
The Arbuckle Mountain Futurity kicks off Sunday for a week long competition at the Hardy Murphy Coliseum in Ardmore.
"Cutting is considered to be the epitome of the horse world in what a horse can do," said Ardmore native and veteran rider Jody Galyean.
Galyean said the sport focuses on a young horse's ability to make maneuvers around cattle.
"Some of the guys got together and said, 'Hey, let's make this a little competition to see who's the best at cutting this cow out and stuff.' From there it originated into the richest equine sport in America," said Galyean.
Mark Michels with the event says more than 600 people are Saddling up to win thousands of dollars in cash prizes.
"The main division is the four-year-old open, and the first go-around is going on right now. The winner of that event will win around $20,000 to $25,000," said Michels.
Galyean said horse cutting competitions pay the highest out of any other equine sport. He said some riders have won up to $10 million.
"They'll (people) get to see some of these horses that are $5 million dollar horses out here, some of these stallions are competing and stuff. You get to see some of the greatest horses in the world in Ardmore this week," said Galyean.
The competition kicked off Sunday and lasts all week long. Anyone is welcome to watch for free.
.