Mamma Monica's Offers Curb Side Pick Up & Delivery to Local Customers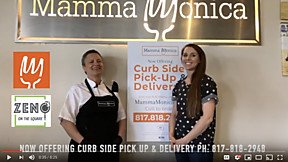 Mamma Monica's has always been a team player offering her services to the local community and charities such as the Careity Foundation and Meals on Wheels. When Monica contacted us about an idea to continue serving her local customers during these tough times we couldn't wait to help.
Even though the Restaurants are currently closed as per the CDC recommendations, Mamma Monica's staff is continuing to cook and prepare meals which can be picked up curb side or delivered straight to your front door. Customers can now call in their order and either arrange to pick it up curbside at one of the two locations, Mamma Monica's Restaurant on Tip Top Road on the outskirts of Weatherford near Silverado On The Brazos or at Zeno's on The Square in the center of Weatherford.
Watch the video to learn more:
The meals are specially prepared and designed to be kept chilled for up to a week in the refrigerator or frozen for up to three months and are easily reheated ready to eat.
The menu consist of special family size meals along with single dishes, Soups, Salads and Vegetable dishes. They also have some Gluten Free dishes and traditional desserts.
Monica is also working together with Parker County Meals On Wheels and if you would like to assist with tax free donations you can give her a call to make arrangements.
See the Menu Below: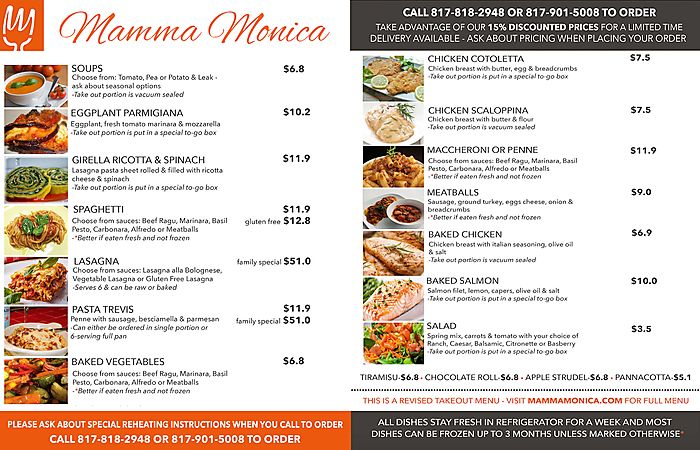 For More information you can call:
PH: 817-818-2948
PH: 817-901-5008
Click the link to go straight to their website - www.mammamonica.com
.