2011 NCHA Futurity Champions Cup Re-Broadcast to air on CHC Livescoring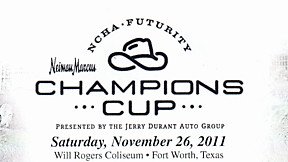 by: Mark Michels
Tune in Sunday May 10, 2020 starting at 6.30pm on the CHC Livescoring App (IOS Devices) or www.chclivescoring.com for a special edition of "CHC Quarantine Cam" featuring Austin Shepard followed by the Re-Broadcast of the NCHA Futurity Champions Cup Finals.
Lauren Middleton talked to Austin Shepard who is a 2x Time NCHA Open Futurity Champion riding High Brow CD & Dual Reyish and was also one of the competitors in the Champions Cup that night aboard High Brow CD. Austin talks about some of the memories from those two Championships and the role he played getting Buster Welch to the show-pen one more time to compete at this great event.
The National Cutting horse Association (NCHA) Futurity Champions Cup Open Finals celebrated the 50 year anniversary of the NCHA Futurity. This was one of the most historical moments in the sport of cutting when all "Past Futurity Open Champions" were invited to compete during the 2011 NCHA Futurity in a special Open finals featuring the best of the best!
This event was special in so many ways which also saw some of the past Champion Horses come out of retirement to compete at this event. Take a look at the original draw posted below from "Back Fence Videos" and you will see some of the most recognizable names (Riders & Horses) competing together in this once in a lifetime special event.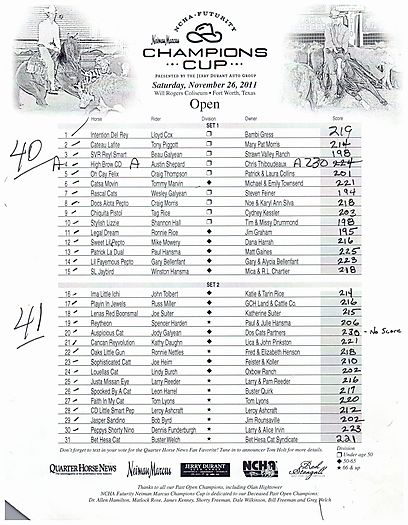 Another highlight was the special moment when Buster Welch crossed the timeline riding Bet Hesa Cat as the last team in the finals draw which brought the packed house crowd to their feet. Buster is the undisputed "Grandfather of Cutting" and the only rider with Five NCHA Open Futurity Championships showing his fans he still had what it takes.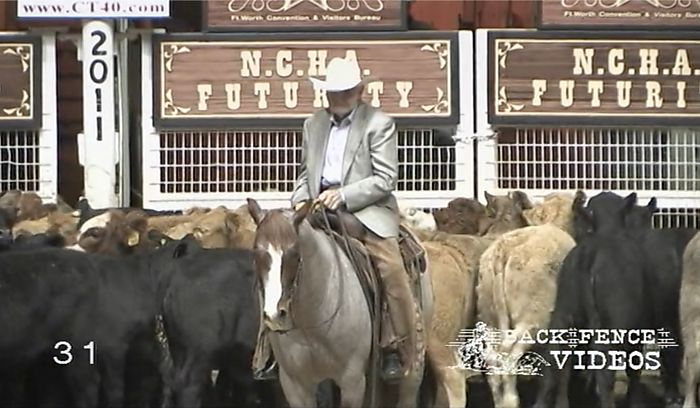 This was a night many of us will never forget and still recall as one of our greatest memories from the sport. Special thanks to Jeremy & Candace Barwick, owner & Operators of the Western Bloodstock Ltd. and the Brazos Valley Stallion Station for providing the converted videos from Back Fence Video.
.