The Future is Bright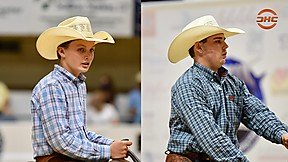 One of the best aspects of our industry is our youth competitors. Everyone wants to see their kids having fun and making memories. They are also learning major life lessons while showing their horses! There are so many things that they take away by being involved in the sport and growing up in it, but that can be said about other organized sports. Cutting is unique, though, it is a sport for individuals, while also being a sport for teams. It is ultimately up to you to get your horse shown and make decisions, but you have a team around you helping you succeed. You are the only one with a score, but there is a lot to be said about your team.
Kids growing up in the sport learn to depend on themselves. They work hard, take care of their amazing animals, and learn to handle great success and defeat. Again, many of these things are in other sports, but as anyone who has ever sat on a cutting horse will tell you this experience is like no other. That all being said, when these kids decide to take the sport that much further and try to win a world championship, all of the special qualities get magnified.
Will Bushaw has already had considerable success in the show pen at a very young age, especially aboard his gelding Velvets Revolver. "Millhouse" is known for so much more than just his youth career but has gone on to be the number one mount for this young cowboy! Will, along with his brothers and parents, is very involved in all of the youth activities, and it was only natural to try to take on a goal like winning the World Championship!
When asked about his favorite memories of the year, it was hard for him to pinpoint specific ones because there were so many. He also got to travel quite a bit to places he wouldn't normally go. The biggest thing he could take away as far as lessons learned was to not get too down on yourself when things don't go great in the show pen. You have to ride out the lows as well as the highs.
Will plans to keep showing as much as he can, but maybe not as hard as he did last year to clinch the championship. Being in a family so heavily involved in the sport, there is no doubt we will see him in the show pen for years to come!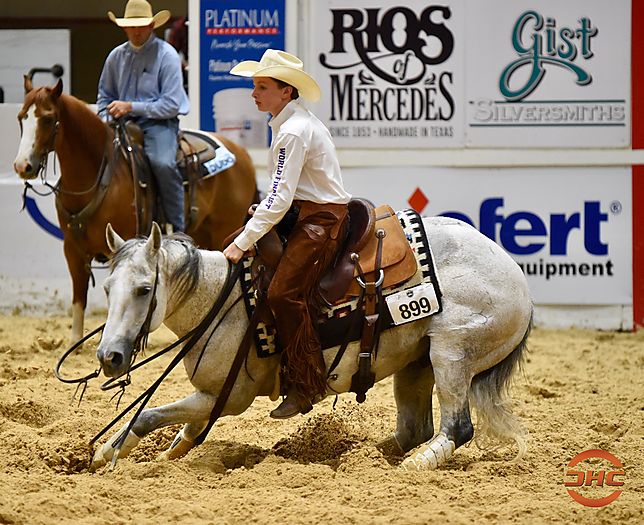 Will Bushaw and Velvets Revolver
Brody Magby is another young man in the Jr. Youth that made a statement in Fort Worth, topping every round of the World Finals! He rode the great mare SS Blacks Lil Kitty, owned by Julie Jarma marking a 222, 224, and 225! "Maggie" is undoubtedly an amazing mare that many would line up for a chance to ride, but Brody being pretty close to fearless in the arena made for a stellar combination! It is always fun to see these horses when kids show them. You can tell the ones that truly love their jobs. Brody closed the week with the Show Championship and also a Jr Scholarship Cutting finalist title! It was all all around great show for this cowboy.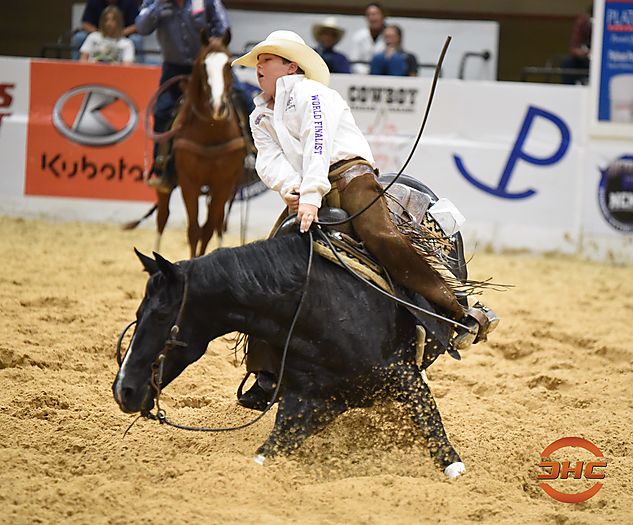 Brody Magby and SS Blacks Lil Kitty
Cody Gann or "Blue" as we all know him also had a memorable week in Fort Worth. He claimed the Junior Youth Scholarship cutting Championship marking a 223 aboard Hevvy Metal, owned by his grandparents Jerry and Patti Gann. This duo have been a force to be reckon with in that last year they were the Junior Youth World Champions and Show Champions! They also claimed the Reserve Championship in the Scholarship Cutting last year, and this year rounded things out by taking home this win. Cody is so dedicated to the sport, we know we will keep seeing more of him as time goes on.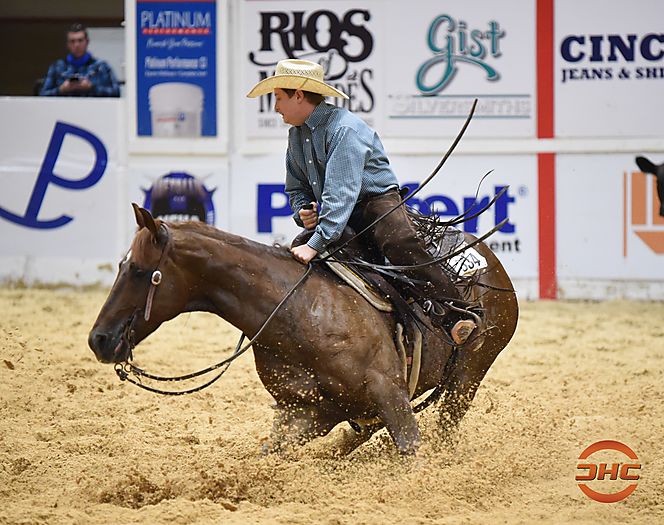 Cody Gann and Hevvy Metal
In the Senior Youth, it was Colt Moore that finished the year as the World Champion! He did not start the year with winning the world in mind, but things came together to give him a strong start. That is often how these huge goals begin. You might have a thought in the back of your mind that you would like to do win at some point possibly, but often it falls together to push these riders into the next step! Colt was unsure about the goal still even after it became clear that he had a chance to win because he knew he had to rely on himself to get it done. In the end, it made the win that much sweeter.
Colt and his family are also heavily involved in the sport even though they are in different parts of the country for the majority of the time now. His dad being a trainer from Florida and his brother Kolby being a strong Non-Pro rider and college student. Together though, they have an excellent group of mares that they have gone down the road with, and it was this that gave Colt the edge he needed. In true cutting family fashion, though, there were people that helped him everywhere he went. One of the many things that make this industry amazing!
Colt not only finished the year as the World Champion but also as the Show Champion in the Senior Youth. He marked a 225, 216.5, and 224.5 aboard his brother's mare Highbrow Nadine. This mare has carried the whole family to multiple wins and titles, but it was Colt's first time to show her on the big stage. Obviously it worked really well! It was extra special for them having both her and their other mare Catscratch Sister as part of his World Championship!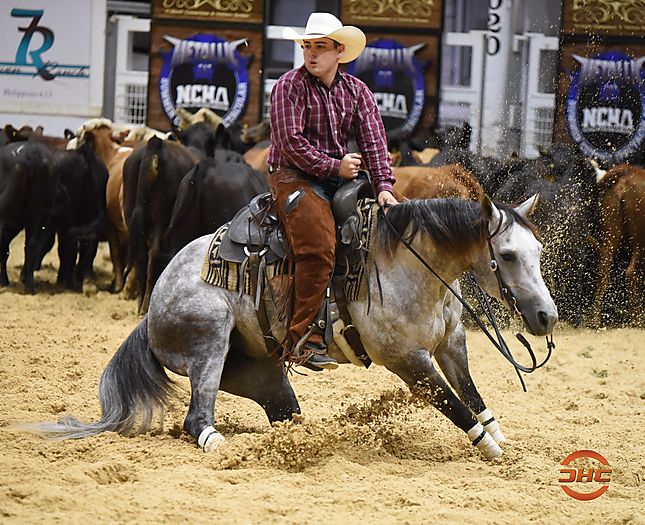 Colt Moore and Highbrow Nadine
Ryan Rapp closed out his youth career in a big way marking a 226 riding Somethingtobelievein, owned by Brett and Jody McGlothlin! These two were something to watch that is for sure. Their gutsy run was one of the most memorable of the show so far. This mare is no stranger to the winner's circle and neither is Ryan, combined they were unstoppable. Ryan has been showing quite a bit in recent years, and some pretty fabulous horses at that, but you could tell he had a good time with "Kate". He finished out the run with a big smile on his face!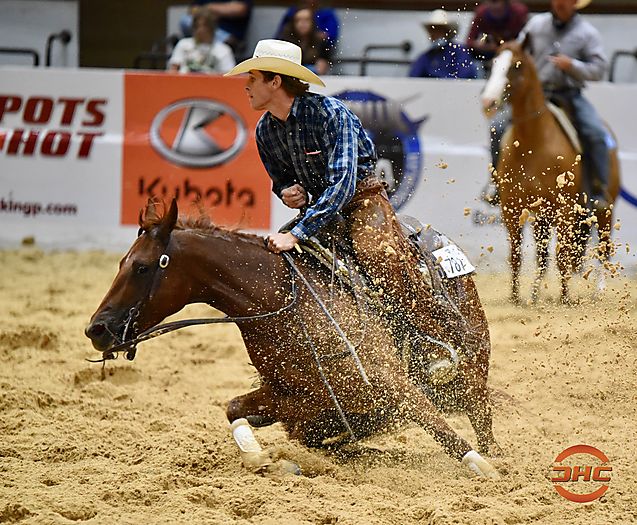 Ryan Rapp and Somethingtobelievein
Last but certainly not least, we want to mention Carson Ray, the 2020 recipient of the Whitney and Greg Welch Sportsmanship Award. Carson was nominated by the 3 Amigos Cutting Affiliate for this prestigious award! There are always several nominees for this award each year, and just to be nominated is an honor. It is given to an individual each year that exemplifies the qualities of Whitney and Greg Welch, their sportsmanship, honor, and kindness. Carson is very active in the cutting community; we have seen him time and time again in the finals. He always has a great attitude and lifts up everyone around him.
We are excited to congratulate these young men on their accomplishments this year! The future is looking bright in our industry, and it is because of the wonderful young adults that are being created through it!
.
News