Playboy McCray the Horse of a Lifetime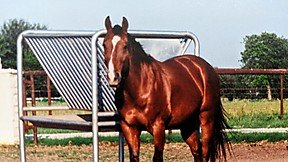 By: Lauren Middleton
It is never easy to say goodbye to the special horses in our lives, and even harder to say goodbye to the ones that have made a major impact. Playboy McCray happened to be that horse for several people. First and foremost, he was that horse for April Widman. "Gus," as he was affectionately called, was a once in a lifetime horse for April. He challenged her, but he also launched her into Non-Pro competition.
Gus, before he made it to his forever home with April, was the 1996 NCHA Futurity Champion with legendary trainer Paul Hansma. He made a lasting impact on the Hansma family and previous owner Kay Floyd before he even made it to April. Kay was his breeder, having been the owner of his mother, the late great, Playboys Madera. It was a huge milestone for both families! Gus made all of these dreams come true before he even made it to his amazing forever home.
There was so much excitement surrounding the purchase of this great gelding in his six-year-old year of competition, but also some doubt. It was a lot of pressure to go on and show a horse that you feel like you need to live up to, but April quickly found out that this horse was meant to be hers. She and trainer Ascencion Banuelos made many aged event finals on Gus through the remainder of the year, and at the completion of that year, April learned that he was still eligible for the $10,000 Novice Non-Pro.
It was then her goal to haul him and enjoy him.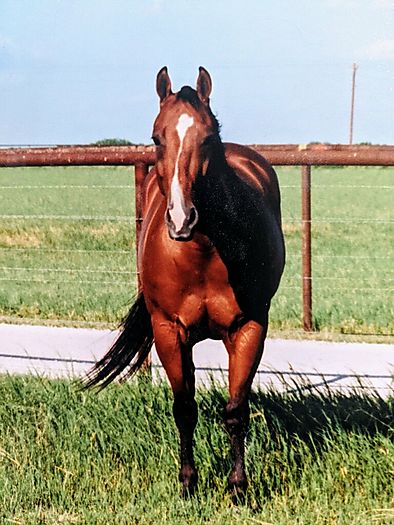 April's first weekend run aboard Gus in the new year was in Abilene, TX, after a very long day of loping for Ascencion. She even took a nap in the arena on a blanket before it was her turn to show! Once it was time for the duo to crack the herd, they were ready, though, laying down a run of a lifetime. They marked a 154 under a two-judge system, with one of the judges marking them a 78! The next day April walked in on a little crowd of people watching their run to see just how good it was from the night before. She, of course, was shocked and a little embarrassed, but it was just one of those runs that will forever be great.
They continued the year at about the same pace, winning wherever they went. They ended up with such a significant lead that she backed off on showing him towards the end of that year to not overstress him. She always had the very best in mind for the special gelding all the way until the end. They finished that year as the $10,000 Novice Non-Pro World Champions and April marked more huge scores that year than in her entire career up to that point. It was then that she made a promise to Gus that she would take care of him forever, and he would one day be laid to rest on their place. She was so thankful to have been able to keep that promise.
Gus was a quirky horse like so many of the special ones are. The truly great riders know that these special horses come with things that are just a bit different, which is perfectly ok. You never knew what Gus would be afraid of, and maybe he wouldn't be scared nine times, but that tenth time you better watch out! It was just part of what made him the incredible horse that he was. He was unique until the end and lived out his life happy, healthy, and sound. Plenty of cookies were involved, and the occasional Dr. Pepper! Gus taught April what it took to win, especially advancing to a higher level to win. He let her feel what a big run felt like and gave her the confidence to continue to win in the cutting pen. He also was bonded with her until his last day and that is another thing that makes this loss a hard one, but to have that with a horse like him, that is one of the best things that you can take from this unique lifestyle.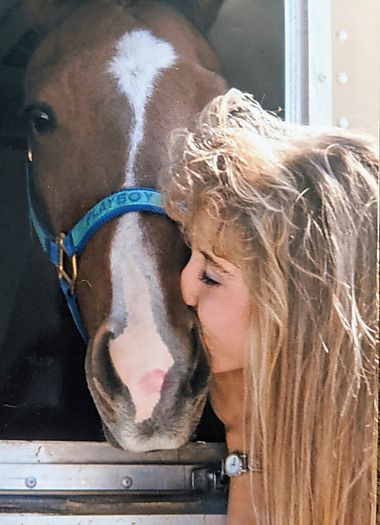 Gus made his mark; there is no doubt about that. He was amazing in so many ways, and we are thankful for the memories he created for several of our heroes in this sport. In that way, he was a hero too. When we look back on our history, Playboy McCray will forever be a significant part of it. As April would say, owning a Futurity Open Champion isn't all it is cracked up to be….. It's Better!
Playboy McCray
"Gus"
May 1, 1993- August 3, 2020
NCHA LTE. $263,723.01
1996 Open Futurity Champion
2000 $10,000 Novice Non-Pro World Champion
.