Ms Baby Cakes makes the day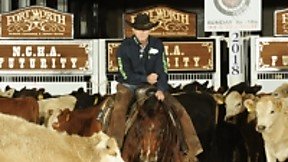 Author: NCHA
Ms Baby Cakes, ridden by Lloyd Cox. Hart Photography.
Tuesday, November 20
Ms Baby Cakes, ridden by Lloyd Cox for owner and breeder Barker Ranch, claimed the high cumulative score of 437.5 points on Tuesday, the first day of Open second go-round competition in the 2018 North Texas Chevy Dealers NCHA Futurity, presented by Great American Insurance in Fort Worth, Texas.
The Metallic Cat daughter marked 222 points on Sunday in the first go-round, the second best score overall to Fracker Brown's 223 the day before. Metallic Cat son Slooow Ride, shown by Ascencion Banuelos for Pat and Lisa Taylor with a score of 220 in the first go-round, added 217 more yesterday for a total of 437.
Ms Baby Cakes is out of Special Nu Baby, the 2015 NCHA World Champion and 2016 NCHA Horse of the Year for Gary and Shannon Barker of Madill, Oklahoma. Special Nu Baby earned $481,197, and has produced earners of $266,000, including Smooth Nu Cat ($193,816), who Gary Barker rode to win the Unlimited Amateur championship at the NCHA Super Stakes Classic last spring.
Special Nu Baby's dam, Nu I Wood ($405,302) is an NCHA Hall of Fame Horse and Open winner of the 2001 NCHA Derby and 2003 Super Stakes Classic.

See the full story at nchacutting.com

See highlights from Lloyd's run in the 2nd Go below:


.