Farrier Talk with Tommy Boudreau Part 5 – Special Blacksmith Projects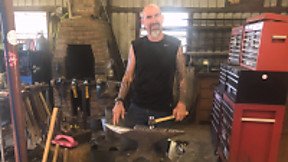 Author: Mark Michels
In Part 5 of our Farrier Talk series, Tommy Boudreau shows us some of the very special blacksmith projects he's worked on over the years including a special custom shoe he built for the late "Doc Baker" as well as some art deco projects and very popular bridle racks used by many of the cutters.


Tommy has also expanded his blacksmith skills and built some really nice Silver Belt Buckle sets including some he showed us that were auctioned off for special charity auctions and fundraisers.


Watch the ending as we give you a little sneak peak into what we'll be talking about next week in the 6th and final episode of this series.


If you would like to go back and watch any previous episodes you can click the link below to see the full playlist of episodes released so far and we'll be adding our last episode next week. Feel free to share this with friends.

Farrier Talk Playlist - on CHC's Youtube Channel
.