A Lock for Ashlock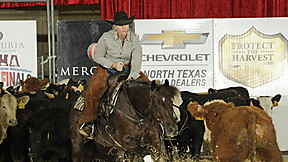 Lindy Ashlock on Little Miss One Time. Hart Photography.
Saturday, November 24
Lindy Ashlock of Abilene, Tex. marked 225 on Little Miss One Time to win the second round of the Mercuria NCHA Non-Pro World Finals by 2 1/2 points over first-round winner Ali Good. With her 220.5 in the first round, the score brought her within half a point of Good's lead for the World Finals cumulative score.
The show has four working rounds plus a pencil finals, with the World Finals champion determined by total money won at the show. The year-end World Championship is based on World Finals money, plus money earned during the regular point year.
Ashlock, who was inducted into the NCHA Non-Pro Hall of Fame in 2009, was NCHA Super Stakes champion last year on In Reyverse. She has also won major limited age championships at the MillionHeir, Brazos Bash, Bonanza, Abilene Spectacular, West Texas, as well as the NCHA Eastern Nationals Championships. She has career earnings of more than $1.5 million.
Read full story at: nchacutting.com
.