Adams and Colgrove share Sunday's lead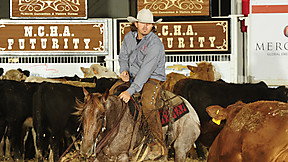 Austin Adams, Logandale, Nev., and Blakley Colgrove, Boligee, Ala., were the high-scoring Non-Pros on Sunday, the third day of NCHA Futurity Non-Pro/Limited Non-Pro first go-round competition. Both Adams and Colgrove scored 218 points, while Glenn Barlow, with 217 points, was the high-scoring Limited rider, and posted the second-highest score of the day.

Austin Adams, the NCHA earner of $350,341, was reserve champion of the 2007 NCHA Futurity Amateur on WSR Dually Smart. His last turn at the Futurity came as a 2016 Non-Pro finalist, when he rode Rockin Cat Moria RG.
Following the 2016 Futurity, Adams and Rockin Cat Moria RG, by Rockin W, competed in three limited age events, including the NCHA Super Stakes Non-Pro, where they placed eighth. This year, Adams is showing Metallic Special Cat, a Metallic Cat daughter he purchased during the 2017 NCHA Futurity Sales.
Blakley Colgrove, NCHA earner of $518,385, won the 2014 NCHA Futurity Amateur championship on the High Brow Cat gelding Paradox Cat, who also carried her to win the 2015 NCHA Derby Amateur Unlimited and as the 2017 NCHA Super Stakes Classic Non-Pro champion.
Blakley Colgrove & Smooth Magick
Colgrove's 2018 NCHA Futurity mount, Smooth Magick, by Smooth As A Cat, is a full sister to Smooth Asa Zee ($616,978), as well as a three-quarter sister to Eazee E ($211,145), by High Brow Cat. Smooth Magick's dam, Zee Dually, by Dual Pep, has produced earners of over $1,144,000.
To read full story, visit NCHACutting.com
.