Westfall ties it up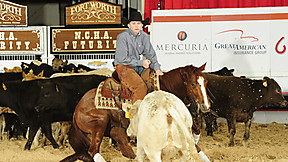 Brandon Westfall of Los Olivos, California, and Ringo marked 219 Monday, the final day of the first round of Non-Pro competition in the 2018 North Texas Chevy Dealers NCHA Futurity, presented by Great American Insurance. The score tied him for the lead with Dustin Adams on Hot Sriracha.
Bill Cowan of Ardmore, Okla., had Monday's second highest score, a 217 on Catty Time, while Dustin Adams was third for the day with a 216.5 on Hottish For You.
Westfall, 18, was reserve champion at last year's NCHA Futurity, riding Smooth Lil Cowtown. He has NCHA earnings of $388,094.
Ringo was bred by Brandon's parents, Russ and Janet, by Kit Kat Sugar out of Lil Bit Reckless, by CD Royal. Lil Bit Reckless, a great granddaughter of Jazabelle Quixote, the mare that Spencer Harden rode to win the 1982 NCHA Non-Pro Futurity, and which produced July Jazz, Harden's 1989 NCHA Futurity Open champion.
Lil Bit Reckless earned more than $231,000 with Open aged-event wins at Fort Klamath, Mebane Ranch and Idaho under Russ Westfall. Janet Westfall won the Non-Pro El Rancho Classic on the mare, and also made the finals of the NCHA Super Stakes Classic.
To read the full article, visit NCHACutting.com
.