Bushaw Follows in his Father's Footsteps with Futurity Win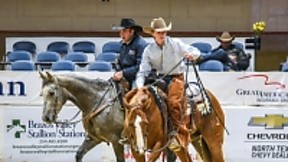 The second finals for the 2018 NCHA Futurity is in the books and it was the kids that showed everyone how it is done in the Limited Non Pro! Fourteen-year-old Charles Russel Bushaw followed in his Dad's footsteps by claiming another Futurity Championship for the family, marking a 221 first out in the second set of the finals. He and his mare, Wood You See (Woody Be Tuff x The Catattac), handled some tough situations making it a two cow cutting, holding the second one until the buzzer.

Charles has always liked this mare but it was not until a couple of months ago that he and his dad Chad thought she might be something special. He had been excited to show her and his hard work over the past couple of years is paying off in a big way. He has been a Youth World Finalist two years in a row after going down the road with his mom, dad, and brothers. It has become a family affair and something they all can do together. Charles wanted to make sure to thank his help along with his parents for always being there to support him in and out of the showpen. There was no doubt that everyone was very proud especially Chad who stood to the side while the interviews were going on with a huge smile on his face. The win added $11,929 to the young rider's earnings as well as his first major win in the "big pen".



Charles Russel Bushaw and Wood You See



Reserve Champion was another young showman in the sport, Bella Anderson. She marked a 217 aboard The Kwack Shack (Spots Hot x Kwackin Cat), owned by the Anderson Cattle Company. Bella also had an impressive run being as clean as possible in a testy situation. She seemed to do it with ease with her family cheering her on as they always do. This is another great family in our industry who are very supportive of everyone involved in their program. The duo collected an $11,672 check along with their title, a pretty fantastic start to their career together!



Bella Anderson and The Kwack Shack

The Co-Champions of the Senior Division of the Limited Non-Pro were Glenn Barlow riding Shez Shamless (Dual Rey x Joys Indian Pep), and James Vangilder riding Justa Lil Brownsugar (Kit Kat Sugar x Travs Scooter) both marking a solid 214.



Glenn Barlow and Shez Shamless



James Vangilder and Justa Lil Brownsugar


Results:



We have a busy week ahead of us here in Fort Worth with more finals to be held, sales are now underway, and just the overall excitement of what is to come! Congratulations to all of these finalists and good luck to those left to compete from all of us here at Cutting Horse Central.
.