True Family Love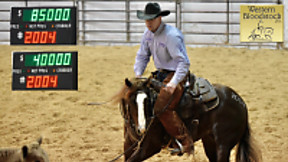 BY: KATIE MILLER
When we say that cutters are family, we are not just using a metaphor. The love of a family should be unconditional, and everyone should try their best to provide all they can for the people in their family, emotionally and financially. Well, that is exactly what happened today at the Western Bloodstock Two Year Old Session II Sale at the NCHA Futurity!

Lindy and Wes Ashlock had decided, after much prayer, to donate the proceeds of their 2016 stallion Reys of Hope (Smooth As A Cat x Annie B Rey) to two very special families. The Sorensons and the Timmons have both been touched by those dreaded words Brain Tumor. The emotional and physical stress from this is unimaginable, but the financial pressure is often unbearable.



Lot #2004 Reys Of Hope

Today, as the stallion entered the sale arena, hopes were high and prayers aplenty! When the gavel fell, Stella Swanson of Midland, Texas had purchased the horse for $85,000. A nice sum of money to be divided by the families, BUT it doesn't end there!! She reran the beautiful stud horse to sell again! This time, the gavel fell in the favor of Jeremy and Candace Barwick for the price of $40,000. Together, this family of cutters raised $125,000 to be divided among families in need.



A Total of $125,000 was raised for the two families thanks to Stella Swanson & Jeremy & Candice Barwick

This was a huge answer to many prayers, but it didn't stop there! If you know Wes and Lindy, they do more than just train their horses, they build a relationship. The relationship built with Reys of Hope will continue to grow!! You see, after the purchase of the horse, the Barwicks turned right around and gave the stallion to Cash Ashlock, Wes and Lindy's son.

This is one for the storybooks!! A true example of the love in the cutting horse family! When one falls, we gather together to support them and then that support and love continue to flow!! Job well done!
.