Nothing Comes Easy and Blake Heid Make it Look Easy in Amateur Futurity Finals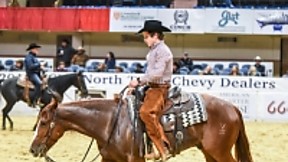 Another youth was in the spotlight of the big stage last night at the 2018 NCHA Futurity! Blake Heid rode Nothing Comes Easy (Kit Kat Sugar x Smooth Little Cat), owned by his dad Mike Heid, to an outstanding 219 point run to take home his first Championship in the Will Rogers.

Blake is often told to slow down during his runs he told us, and last night he was on the edge because as the run built, he began to get excited. Like so many riders who love the sport, our hearts get pumping and we want to make things happen. Blake stayed cool as his help told him to throughout the run and it all came together! His gelding "Dually" looked like a seasoned veteran out there handling anything that came at him, making Blake even more confident in the situation. Dually was purchased by Heid about three months before the Futurity from the Anderson Cattle Company with Pedro Ornelas as the trainer. Pedro has stayed involved with the gelding and done a fantastic job with him.



Blake Heid and Nothing Comes Easy

Blake went on to tell us how thankful he was for the horse and the opportunity to have him, along with thanking everyone involved in getting this far! He listed several of this special people including Pedro for having this horse so trained, but first and foremost he gave God the glory for the chance to get to experience this amazing moment. They collected the largest check of the young cutter's career thus far, amounting to $22,617 along with a brand new three horse trailer given by Cowboy Trailer Sales among other prizes!

He will also be competing in the Unlimited Amateur Semi Finals today aboard the same great horse. Good luck to Blake as he tries to go for yet another finals during Dually's debut of his career.

Reserve Champion was Tom Williams riding Sofies Choice Cat (High Brow Cat x Sofie Rey) marking a 217 deep in the second set of the finals. They put together a commending run late in the game that really got everyone's attention! They took home an impressive $19,853 check with the title along with an additional win in the Senior Division of the Amateur Futurity!



Tom Williams and Sofies Choice Cat

FULL RESULTS:




As said before the Unlimited Amateur Semi Finals are being held today as we are getting down to the biggest part of this incredible event. Good Luck to everyone from all of us here at Cutting Horse Central!
.