Rice and Quirk Achieve Greatness Claiming 2018 World Championships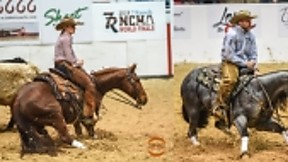 BY: LAUREN MIDDLETON
The excitement of the 2018 Mercuria World Finals has come to a close but the accomplishments and prestige remain. It takes dedication to qualify for these finals and a lot of hard work. There are late nights, early mornings, long drives, and probably some not so healthy road trip food; but in the end it is all worth it! The memories made and friends gained throughout the year will stick with us forever and mean more than the titles.

Open
---

Tatum Rice would probably agree with these statements but the 2018 Open World Championship aboard the once in a lifetime stallion, Hashtags (Metallic Cat x Dual Rey Tag), is something he will cherish forever. There were ups and downs as in any sport with anyone that ultimately achieves greatness but "Tag" has made his experience one for story books. He started the year just wanting to get the young stallion into the top fifteen then as the year progressed the chance to clinch the World Championship came within reach. As they moved up in the ranks Tatum was encouraged by a number of competitors to go for it! As soon as Tatum set his mind to it things kept falling into place.



Tatum Rice and Hashtags

It takes encouragement from so many to want to reach for a goal such as the World Championship, luckily, Tatum got it from all angles. The owners of Hashtags, Hashtag Ventures LP, were very supportive no matter what happened on a day to day basis and he had a number of close friends in his corner throughout the year. He owes a great deal of the success they have had to his wife Kylie as well, as she has done all of the planning, organizing, and everyday care of Tag. It takes a village as so many say and he has an amazing village!






Hashtags not only claimed the World Championship but also the World Champion Stallion title! This duo had both Championships wrapped up at the start of the World Finals making the last four runs for them just icing on the cake. They made the most of them laying down some very impressive runs ending with a 231 on the final night. It was a run that will give anyone goosebumps to watch and stirred quite a few emotions for the whole Rice family. It was a moment as said before that sticks with you in this sport. Hashtags has made his mark in the history books!



Tatum Rice and Hashtags

While the Championship was wrapped up before the finals, the Reserve Championship was determined during the rounds of the World Finals. It was Phil Rapp and Dont Stopp Believin (Dual Rey x Dont Look Twice), owned by he and his wife Mary Ann, that came out victorious in the end. They had an excellent show with "Grundy" showing us exactly why they have been in the winner's circle time and time again. Through the year this talented stallion also reached the $400,000 mark in lifetime earnings!



Phil Rapp and Dont Stopp Believin




This year's Open Mercuria World Finals Champion was James Payne riding PG Heavily Armed (Playgunx Not Quite An Acre), owned by Mike and Brenda Armstrong. This team put on quite the show for everyone having unbelievable runs each night. This horse has been another one of our favorites during his aged event career. James decided to show him at the Mercuria Event during the West Texas Futurity in August and that started the race to the World Finals! They won the Open there and James saw that it could be possible to make it. It was his first experience in Open weekend competition and what an awesome one at that! He went into the finals as number fifteen after showing at the Cotton Stakes and Southern Futurity night cuttings, then finished the year as number four in the world. He won over $27,000 at the World Finals alone! This was another story book ending during this year's finals. We can always count on this time of year to move us in so many ways, and their story adds to the list of things that keep us hooked in this incredible sport.




James Payne and PG Heavily Armed




Non-Pro
---

It was Elizabeth Quirk who finished the year as our 2018 NCHA Non-Pro World Champion, finishing in style with some incredible runs on her mare Cat Sheree (High Brow CD x Nurse Sheree). They had the Championship wrapped up before the finals as well but they put on quite a show for all of us also being the 2018 Mercuria World Finals Show Champions! They finished out the show and this mare's career with a fantastic 227.5.



Elizabeth Quirk and Cat Sheree

Elizabeth's story is similar to Tatum's in that she began the year with the top fifteen in mind then as it progressed she decided things were shaping up for the win. She was Co-Champion and Champion of three different Mercuria events this year as well as having a great deal of success in smaller settings. Elizabeth is one to be a planner and precise about a goal. She came up with a spread sheet to plan out which shows to attend at any one time which was pretty impressive to say the least.



Elizabeth Quirk and Cat Sheree

Her family and friends have been a support system like no other and her trainer Adan Banuelos has had her horses ready to go at all times. It has been a journey to remember for her and she will carry it with her always.



The last evening of the finals she dedicated her win to Rich Timmons, one of our cutting family, and had him with her during the introductions. It was an emotional moment for everyone but the outpouring of love we have witnessed for this family and others among us in need is amazing. It was a wonderful gesture to finish our Elizabeth's memorable year.




Reserve Champion in the Non-Pro was Bill Cowan and Billies Catty (Catty Hawk x Little Bonnie Blue). This Reserve title was also determined in the finals making for an exciting last few runs for this first-time hauler. Bill also started the year with goals of reaching the World Finals but did not anticipate everything coming together for he and his mare "Billie". He wanted to get this mare to the $200,000 mark and in doing so also got himself to the impressive $1,000,000 mark! It was a great experience for Bill, he learned so much through the process both about showing and about training his horses.



Bill Cowan and Billies Catty




The Mercuria World Series of Cutting has been a common household name for any cutter over the past decade. When we hear about any Mercuria Event it makes us think about the runs over the years and the wonderful horses that have graced us during them. We will probably refer to any horse that we think could compete at this level as a "Mercuria" horse for years to come. We want to thank Mercuria Energy and the Jeaggi family for all of the memories and the chance to compete in something truly unique.



Congratulations to these riders on their huge achievements this year and congratulations to all of the other finalists from all of us here at Cutting Horse Central!
.