CHC Featured Trainer Spotlight - Fons de Barbanson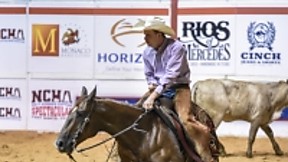 BY: ALEX TAFT
Fons de Barbanson spent his early life in the Netherlands riding show jumping and dressage horses. As a teenager, he was introduced to cutting horses and was instantly hooked. A trip to the United States soon followed, and he made the decision to move to the states on a college visa in 2001, earning Associate and Bachelor degrees from North Central Texas College and the University of North Texas, respectively. He has worked for several top cutting horse trainers during this time, including John Wold, Randy Butler and John Mitchell. The care and well-being of the horse are top priorities in his program, and plenty of personal time is spent on each horse. Starting in 2019, Fons will be training out of T/K Cutting horses and taking outside horses, working alongside of NCHA Hall of Fame trainer Tatum Rice! We took some time to catch up with Fons to get to know this young trainer.



Fons de Barbanson & That Sly Katz
Who has been your biggest influence as a trainer?
I would have to say the most recent trainer I worked for, John Mitchell. I learned a ton from Randy Butler and John Wold when I first got started, but I feel like John gave me a more complete picture of how to train a horse. I had trained and showed a few when I got to Slate River, but I was a little inconsistent in my approach and would go back and forth between different ways of working them. John gave me a ton of horses to work and show and taught me more about how to get all the body control but do it in relation to the cow. And even though I think he puts a very distinctive stamp on the horses he trains, he was good with me finding my own way of doing things.
What is your favorite memory in the cutting pen?
There have been several - anywhere from wins at shows to maybe just a breakthrough you're having with a young horse at the house that you've been working really hard on. If I'd have to pick one maybe it would be being Reserve in the Limited Open Super Stakes on Wild Starz (Wilds My Thing x Mh Milliondollarride). She was one of the first horses I trained all the way through and was pretty challenging to start! She was so afraid of cattle just trotting circles around the babysitter was a chore.
If you couldn't work in the cutting industry, what job do you think you would have?
I'm not very good at sitting still, so any office job would definitely be out of the question. I was pretty serious about playing guitar when I was younger, so maybe a musician?
Name a horse you trained that you wish you could have shown.
Probably George C Merada (Cats Merada x Lenas Stylish Bunny), although I didn't really train him. I just got to start him the first few months. He was just such a cool horse and probably the only Hall-of-Fame horse I can think of that I had part of working.



Fons & Brake Smooth
What is your biggest goal in life or as a trainer specifically?
In life it would be to be a good Dad and husband. As a trainer, just to continue learning and be the best I can be.
What is something you want to do before you die?
Hmm not sure, travel the world?
What is your favorite thing about being a trainer?
Working that special horse that makes you want to get up and get to the barn in the morning.
What was the hardest thing you have done?
It would have to be leaving my home country of the Netherlands and family to pursue my cutting career.
What is your favorite thing to do outside of cutting?
Spend time with my family.
What is something people might not know about you?
I played with a very talented Christian rock group called the Atomic Spostles a few years ago and got to record a couple of songs in the studio on one of their CDs. That was a pretty cool experience!


To learn more about Fons, visit his trainer profile here!
.