Futurity Championships Meant to be for Shepard and Rockey at the 2018 NCHA Futurity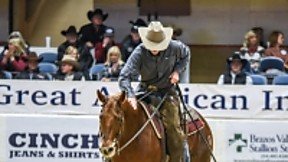 Author: Lauren Middleton
Dreams came true last night at the 2018 NCHA Futurity in the Non-Pro and Unlimited Amateur finals! There were some making their first Futurity finals and those who finally achieved a title they always set their sights towards. They were also a few that were lucky enough to do both. This show continues to make us fall in love, enough so to hook us for a whole other year and we have not even made it to the Open finals yet!

Unlimited Amateur

---

In the Unlimited Amateur John Rockey knew it was going to be an amazing evening. He just had that feeling going into it and had all the confidence in the world. He knew if he set things up right his horse, Sweet Toothe (Kit Kat Sugar x One Sweet Sis), was ready to get the job done. He was right on his prediction claiming the Championship and the impressive $23,837 check!



John Rockey and Sweet Toothe

John has had several really nice geldings over the past few years and "Henry" is another great one to add to his show string. He has gotten better and better through the show with each run getting more confident. John's run was well executed and Henry has a great deal of eye appeal to add to the draw of this duo. Another fun fact about this gelding is his mother, One Sweet Sis, was an Amateur Futurity Champion as well with owner Kelsey Johnson. John and the Westfall's found Sweet Toothe during the Breeder's Invitational back in May with Clay and Kelsey Johnson. John is very grateful to the Westfall family for everything they have done for him and to their son Brandon for helping him initially find Henry and encouraging him to buy him. The decision to purchase the gelding was a great one and we look forward to watching them in 2019! The duo also claimed the Senior Division Championship along with their big win.



John Rockey and Sweet Toothe






Reserve Champion was Max Reed riding Classy Lookin Cat (High Brow Cat x Classy Dualin) marking a 215. They had a solid run in a tough set that stood out among the rest. They took home a $21,082 check!



Max Reed and Classy Lookin Cat

Third Place was Bobby Woods marking a 214 aboard Our Little Hottie (Hottish x Our Lucky Lilpeppy). They took home another impressive check amounting to $10,826.



Bobby Woods and Our Little Hottie

Non-Pro

---

In the Non-Pro Cade Shepard started out the two set finals marking a 222 on his flashy mare Chexy Louella (Im Countin Checks x Louellas Cat). He has been excited about "Lips" since day one and as things progressed with her he and his family only liked her more. Cade went into the pen a little nervous as it was his very first Non-Pro Futurity finals! It is hard to believe knowing he has won almost everything else there is to win in the Will Rogers but this finals has eluded him. We also cannot help but think that even though it has been a long time coming for him he is only 17! He was the youngest to ever be inducted into the NCHA Non-Pro Hall of Fame, the youngest to win a Non-Pro aged event in Fort Worth, and now the youngest to ever win the Non-Pro Futurity! He continues to amaze us from year to year and this win adds another special memory for he and his family.



Cade Shepard and Chexy Louella




He wanted to make sure and thank his help and his family especially his dad Austin for training Lips and helping him with her along the way. We asked also what his thoughts were as he went down to the herd on his second horse for the evening, Barney Ross (Bamacat x Hadiandsmoke), who was last in the finals, which he responded that he was a little less nervous knowing he has won the event on Lips depending on what the outcome was on "Barney". This gelding was meaningful for him being by Bamacat, a stallion that the Shepard family raised and promoted. This was one of the first two Bamacat babies to make an NCHA Futurity finals last night. Cade wanted to set Barney up for success as well that was his main goal going into the final run for the evening. Cade took home the $57,721 Champion's check with an additional $16,039 on his second horse!



Cade Walking out with his dad Austin



Cade along with his grandad Sam Shepard



Reserve Champion was Lindy Ashlock riding Very Reytro (Dual Rey x Cat Mom Do) marking a 218 in the second set of the finals. Lindy and "Pablo" had a run that kept building throughout earning them the $49,019 Reserve Champion's check along with an additional $13,039 riding her second finalist Desiresomeroyalty (One Time Royalty x Desires Katrina). She and Pablo also took home the Gelding Division Championship as well. Lindy and her husband Wes purchased both geldings as yearlings from Double Dove Ranch as they often do with many of their eventual show horses. Earlier in the week they sold a special stallion, Tin Man (Metallic Cat x Nurse Moss), for a record breaking $500,000 that they also purchased from Double Dove Ranch. It has been a week to remember for this family and they still have the Open Semifinals left to go. Good luck to this family as they continue their journey this evening.



Lindy Ashlock and Very Reytro

Third Place was a tie between Blakley Colgrove who rode Smooth Magick (Smooth As A Cat x Zee Dually) and Alexa Stent who rode One Million Reasons (Smooth As A Cat x Little Bow Peepto) both marking a 217. Blakley's horse was purchased from the Manion Ranch earlier in the year and is a full sister to the great gelding Smooth As A Zee who speaks for himself having won in excess of $600,000 in his career. Alexa's horse is out of one of this family's favorite mares making her extra special. Paul Hansma is the trainer for this family and the thing that meant the most to Alexa about last night was that she was riding for Julie Hansma. Julie is a friend to us all and means so much to us, we hope to see her back with us soon. Both teams received a $36,670 check to start off their mare's careers.



Blakley Colgrove and Smooth Magick



Alexa Stent and One Million Reasons

As said before, it was an evening of memories made and dreams coming true. It is a special time of year for this sport with still two more evenings to go at the 2018 NCHA Futurity. Good luck to all of the Open riders and Congratulations to all of the Non Pro and Amateur Finalists on a show for the record books!
.