It's Open Finals Day!!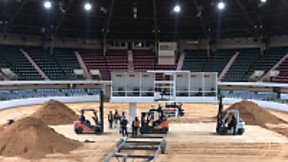 Author: Katie Miller
Today is the day! Exactly 25 days ago, the first three year old walked into the herd at the NCHA World Championship Futurity in Fort Worth, TX. Today there are 21 horses showing for the title of 2018 Futurity Champion.



There has been a ton of preparation and runs up until now, but Open Finals day is finally here!

There have been over 1300 runs and over 2000 entries showed on this hallowed ground. There have been 224's and 0's, great horses sent home too early and some surprises left to show more than their trainers thought they might. There have been tears of blessings, tears of disappointment, tears of frustration and those of utter exhaustion. But for every tear there have been twice as many smiles and laughter!



Kody Porterfield & Cat Gethr

We saw smiles and happy tears from Kody Porterfield winning the Limited Open with a 223, Charles Russell Bushaw the Limited Non Pro champ, Blake Heid winning the Amateur, John Rocky the Unlimited Amateur winner, and Cade Shepard being named the Non Pro Champion. Tonight another Open Champion will be crowned, friends will gather, purchases made in the exhibit hall, and fun had by all.



Cade Shepard & Chexy Louella

On Tuesday morning, Will Rogers Memorial Center will be void of cutters, the barns quiet, cows gone, and filled only with memories of the 2018 Futurity. Memories of the love and emotion seen from the sale of Tin Man, High Brow CD and the one that touched the whole industry - the sale of Reys of Hope and all that it brought with it.



Tin Man & Wes Ashlock

Lopers will get some sleep, Horses will get a break and cutters will spend the holidays with their families. In January it will all begin again, the hard work and preparation for the 2019 Futurity! Safe travels and we'll see you next year!
.