New Look to Cutting Horse Central Website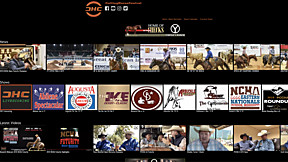 NEWS RELEASE
FOR IMMEDIATE RELEASE
Dec. 14, 18
Contact: Lucchese Cogdell
Phone: (806) 994-0807
New Look to Cutting Horse Central Website
WEATHERFORD, TEXAS - Out with the old and in with the new - a new and improved Cutting Horse Central website is coming soon.
Cutting Horse Central has had the same look since its launch back in 2013, and Mark Michels, the owner and operator, said he thought it was time "to give it a new look."
"I wanted to give it a fresh new look and make it even easier to directly navigate to the things people were interested in, as well as highlight some of the other categories that some people didn't know were even there," Michels said.
The new website was inspired by the Amazon Prime Video website because Michels said he thought the format was a good fit for what Cutting Horse Central offers.
"I figured since they were one of the most popular websites on the internet, people would be used to navigating this type of website," Michels said.
Currently, the Cutting Horse Central website is organized in categories and has items in different places. Michels said people are not able to use the website to its full potential because they are not finding everything it has. With the new website, everything can be viewed on one page.
"Everything is located on the homepage," Michels said. "It is created to where you scroll down to see the different categories and then scroll left or right to see all the listings within that category without ever leaving the page.
"Listings can be clicked on from that page to get more information," Michels said. "This type of structure enables the website to be structured in a clean, easy-to-read format that is mobile friendly. Over 73 percent of our users are using mobile devices to view Cutting Horse Central and CHC Livescoring, so we wanted to target this audience to give them the best experience to view what we have to offer."
Michels said the goal was to launch the new website before the NCHA Futurity, which began Nov. 15; however, there are a few things that still need to be added, and the website needs to be completely tested before launching. He said they want to be 100 percent comfortable with how it works.
"I think it's going to very different from the traditional website, and we are excited to see what our users think of it," Michels said.
The goal of Cutting Horse Central is to promote the sport of cutting and give a central platform for others to get together and support our industry. CHC offers a vast selection of cutting horses for sale by the top trainers and breeders in the cutting horse industry. CHC is designed to help you find the information you are looking for within industry and give one place to find it. In addition, CHC is here to bring the latest news and updates about what is happening through articles, social media, or CHC Livescoring.
For additional information and to see the new website, please visit www.cuttinghorsecentral.com
NOTE: CHC is inviting all current users to reload their existing "Classified Listings" to the new website free of charge until the end of 2018. New users are also invited to register and try out the new website with a FREE 60 day listing in one of our "Classifieds" categories.
Current Users will need login with their username and request a new temporary password to access their account. Once logged in you will be able to update your password and place your classified listing.
For information on other listings and advertising on the new website please contact mark@cuttinghorsecentral.com
.