Macon Massey – A Little History on a Man with a Big Heart!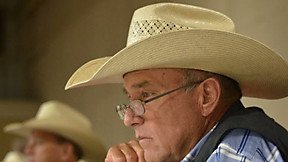 By: Katie Miller
On a small rural tobacco and dairy farm in Dudley, North Carolina there was little boy working the mules. He would ride them and teach them to trot and lope, and he would drive them as they plowed the dirt. By the time he was in ninth grade, he got a 3 gaited horse and continued to work hard at all that he did. Little did he know that his future would take him on trips far away from this little spot of heaven on earth.
One day while playing football at his local high school he got hurt and couldn't play anymore; he found himself hanging out at the County Fair. He would watch the horse show and in 1967, Macon Massey announced his very first horse show. With his crisp clean voice, he began to be very busy in Eastern North Carolina announcing barrel races, open shows, and of course the local fairs that came to town. In 1990, Warren Threat hired him for his very first cutting in Columbia, SC at Wateree CHA. As Macon continued announcing small local shows, he fell in love with cutting. He bought a mare, Abilenas Little Pep, and qualified for the NCHA Workoffs in Jackson, Mississippi in 1997. He was so thrilled to get a chance to show at such a big event, but God had other plans for him. As Macon was in Jackson, the announcer got sick and they needed an announcer badly. Jack Jodon called the NCHA and told them that Macon was on the grounds. Of weekend shows, the Raleigh series put on by Gary Merritt, the Tomato Futurity and the Youth Scholarship Cutting in Augusta. In 2010, Dave Bryan called Macon and hired him to announce Jackson and work the dirt. He was also asked to announce the Youth during the Summer Spectacular. Since that show in 2010, Macon has worked for the NCHA announcing, working dirt, ring stewarding, and as a backup for Tom Holt. Today, you will see Macon at The Futurity, Augusta, The Ike, Ardmore, Jackson, The Super Stakes, The Non Pro, The Western Nationals, The Derby, Cotton Stakes, The Southern and at Wateree CHA when time allows.
Macon loves traveling and even bought a motor home to drive and stay in while he travels. He said that this allows him to see the country and enjoy the sights. I asked Macon what special memories he had, and he just grinned. He said, "I have so many wonderful memories, but there is one that stands out above all else. No one has ever made me feel more special that Ms. Ora Diehl." He went on to tell me how he was in Camden, SC and his phone rang. The lady said, "You don't know me, but I'm getting ready to put on a small futurity and Norman Bruce told me to get you to run it and announce." As she told him the dates, Macon had to tell her that he was unavailable. She had already turned in all the dates and had them approved. In Ora style, she called him back a while later and had the dates changed. "I was so humbled that she wanted me to be there so badly, that she actually changed the dates to meet my schedule!" Macon just shook his head and smiled.
Macon treasures the memories, but more than that he cherishes the friendships that he has made. As he and his daughter were delivering a mare to Winward Stud, she looked up and said, "Dad, what are we going to do if we break down so far away from home." Macon reassured her that he had his NCHA directory with him and was positive that if they had any trouble he could call any number in that book and someone would come to the rescue. With a twinkle in his eye, Macon said, "I am blessed, and I thank the Good Lord that I am able to be involved in such a wonderful association and with so many awesome people."