Can't Miss – Abilene Youth Scholarship Cutting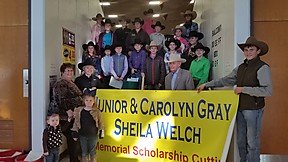 For 16 years, the Abilene Winter Circuit has hosted a Youth Scholarship Cutting that has brought in plenty of young riders. This year's cutting is shaping up to be no different!
The Junior & Carolyn Gray Sheila Welch Memorial Scholarship Cutting, set to kick off on Dec. 28 at the Taylor County Expo Center in Abilene, Texas, will be a 5-day long event packed with action.
Top placings in both the Junior and Senior divisions will receive premium prizes! First place will take home a custom buckle, and second place will be awarded Jim Reno trophy!
Caren Birdwell, the event President, and the rest of the show staff don't want any competitors to leave empty handed, so every rider who walks to the herd all five days will receive a scholarship!
In addition to money earnings, each rider will take home some type of prize, whether that be a coozie, vest, horse treats or another item! The show staff has been working hard to make the event a great experience for our youth.