Lainie Whitmire Talks About The World Cutting Horse Association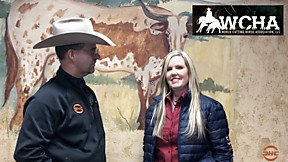 In the sport of cutting there are many different events, affiliates and associations to suit different needs and levels of competition. We stopped by the NRS Arena in Decatur, Texas and talked with World Cutting Horse Association founder Lainie Whitmire about the growing popularity of the WCHA.
Watch the video interview below to see why Lainie thinks the WCHA is the perfect fit for beginners looking to get into the sport of cutting with some beginner type classes such as the two-handed "Ranch Cutting" classes as well as some of the very popular "Senior Select" classes for the over 50 year-olds or the new "Super Select" targeted towards the over 70 year olds which are often the most popular and biggest classes of the show.
The WCHA has been consistently growing over the first few years of its inception with more shows being added every year in new locations and also hosts a year end Finals show in Ardmore, Oklahoma that awards lots of great prizes and awards including a trailer for the Grand Prize!!
The cheaper entry fees and laid back atmosphere make these cuttings the perfect choice for not only the entry level Amateurs and Non Pro's but also some of the trainers looking for a different venue to show their horses.
For more information about the WCHA and a list of upcoming shows please visit- www.worldcutter.com
.