First Abilene Spectacular Titles Awarded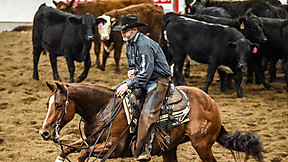 The Abilene Spectacular is the first big limited-age show of 2019, and riders are typically eager to use the event as an opportunity to make a solid first impression for the year. On top of that, the 5/6-Year-Old Open in Abilene was stacked with some of the cutting industry's current top performing horses, so it was anyone's game.
Lloyd Cox & Copperish
After Lloyd Cox marked a 225 on Jimmie Smith's Copperish (Metallic Cat x Stylish Play Lena) as the first draw of the finals, it was clear that everyone would really have to go for it to have a chance at besting those marks and clinching the Championship.
Teams put in their best efforts, but Lloyd and Copperish held onto the lead through the end and earned the title by 5.5 points! This isn't the first time the pair has had success in Abilene. Last year, they clinched the Co-Championship in the same division to set the stage for a successful 2018.
Those two wins only added to Lloyd and Copperish's long list of accolades. In addition to numerous finals made, the team has clinched several big wins, including the Bonanza Derby Open Championship and Cattleman's Derby Open Championship!