Non-Pros Take Center Stage in Abilene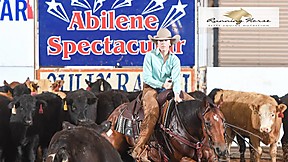 At the Abilene Spectacular, there has already been a ton of action, and Non-Pros got their time in the spotlight as a pencil finals after two rounds determined the Champions!
Jaylee Hall & One Time Legend • Photo by BXPhoto
In the 4-Year-Old Non-Pro, it was Jaylee Hall who topped both rounds on One Time Legend (One Time Pepto x HR Playin Legend), owned by Larry Hall Cutting Horses LLC! They posted a 218 in the first round and capped off their success with a 217 in round two.
Their 435 total allowed them to pick up the Championship and $7,288!
The Reserve Championship went to Lindy Ashlock and Very Reytro (Dual Rey x Cat Mom Do), who is owned by Lindy and her husband, Wes! The pair marked a composite 431.5 (216/215) to collect $5,830.
5/6-Year-Old Non-Pro
In the 5/6-Year-Old Non Pro it was none other than Paula Wood and her great stallion Cool N Hot (Hottish x Donas Cool Cat) who took home the Championship with a 444 total (219/225).
Paula Wood & Cool N Hot • Photo by BXPhoto
It was no surprise that Cool N Hot, who was the 2018 Open Horse of the Year, continued his success again this year! The pair took home a check of $9,791 for their performances!
The Reserve and Gelding Championships were awarded to Ashley Flynn and Smooth Lines (Smooth As A Cat x Okie Skyline) following their runs that gave them a 439.5 (217.5/222). They garnered a total of $9,901 for the titles.
CD Wood (High Brow CD x Wood She B A Nockout) and Bobby Hawkins took home the Senior Championship and $754!
Stephanie Sheen and Metallic Alex (Metallic Cat x TM Smart Alexis) clinched the Limited title, which was worth $1,132!
Congratulations from all of us at CHC and a special thanks to BXphoto for the action shots and to Running Horse Feeds for allowing us to bring you these results.