CHC Trainer Spotlight: Joe Ammann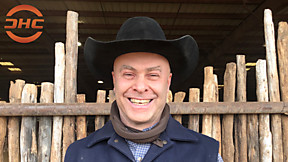 Joe Ammann has spent his life on cattle ranches building knowledge about every aspect of the cutting industry. Over the years, he has grown as a trainer and all-around horseman and has earned his status as an AAA Judge. Joe recently moved to a training facility in the heart of it all, Weatherford Texas, and is looking forward to the new opportunities the relocation will bring. Joe firmly believes in bringing out the strengths and value of every horse, even the ones with untraditional backgrounds and bloodlines. Joe loves the daily successes and challenges that training horses brings, and he is excited about every new project. CHC took the time to catch up with Joe to get some additional background on the seasoned horseman!
How did you get started training and showing cutters?
I went to work for Larry Reeder when I was a teenager in the summer of 1983, just because I grew up in South Dakota on a ranch and got all of these newspapers from Texas that bragged on cutting horses. It drove me crazy, and I moved down here and went to work for Bill James in Abilene, Kansas, and was down there for a couple of years. One thing led to another and pretty soon, I was trying to be a horse trainer and showing here and there. Kansas led me back to S&S Farms in Hope, Arkansas.
Who has been your biggest influence or mentor?
Ronnie Rice, because he is brilliant. He is the best horseman and best horse trainer I have ever met in my life. I can always depend on him to tell me what I need to know. He knows me pretty well, and we have gone on to be pretty good friends. He knows he can't hurt my feelings, so he just fixes whatever I need him to help me fix.
If you couldn't ride horses, what do you see yourself doing?
I wanted to be a baseball player when I was a kid. I played short stop in high school. I tried out for the White Sox, and didn't make it back in the old days.