The Voice of the NCHA: Tom Holt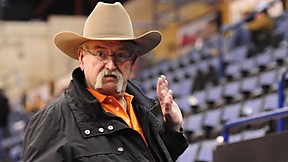 You've heard the old adage "a voice for radio," but have you ever heard "a voice for cutting?" If you have ever been to an NCHA major event, then you know exactly what I am talking about; a true voice for cutting. Tom Holt may just be THE voice of the NCHA. Horses and riders' names slide off of his tongue like butter on a hot biscuit as his deep voice resonates through the coliseum. When you hear that beautiful sound, you know that you are at an NCHA event.
Growing up in New Hampshire, Tom had no interest in horses at all. He went on a trail ride in Nova Scotia when he was ten or eleven. He was the last to get a horse and they put him in an English saddle. He said that was enough; never again. Instead, he watched his sisters love horses and he disc jockeyed his way through high school. In 1973, he went to University of New Hampshire and managed the varsity football team and continued to dj for parties. He also coached a local high school track team.
He took a vacation in California and worked for one year for a semi professional football team. As this tour ended, a local college hired him as their athletic equipment manager for girls and boys. It was there that he announced baseball and basketball. There was a dance studio in town and the girls from there would dance during half time of the basketball games. Their coach was no other than Tom's current wife Colleen, they met and married one year later. Colleen was his connection to horses, but he still didn't ride much. Instead, he cleaned stalls and bathed them and eventually rode a little bit.
There was a local Memorial Day saddle club show and he was asked to announce; that was it, he found his niche! He would go on to announce small shows until Nick Arismendi asked him to announce the PCCHA shows. The referrals began to flow. In 1985, Nick hired Tom to escort judges at the PCCHA Futurity. He then announced Chris Benedict's show in Temecula. In 1988, Tom announced the PCCHA Futurity. In 1989, while announcing the Tropicana, Tom met Bobby Pigeon who wanted him to announce all of his shows. Pigeon introduced Holt to everyone he knew. He announced the Augusta Futurity and the Texas Breeders' Cup. When the Breeders' Cup moved to Reno, Tom set up for the show and escorted judges. It was there that Tom decided horse shows would be his career.
As Tom looked across the room and then back, he said, "You know, I've never met a person I didn't like. I've met so many wonderful people and have made great friends."
For three years Tom ran the stall office for the NCHA Futurity and would announce a set or two. "Zack, Glen and Bruce would announce the others. He announced his first finals at the Super Stakes Classic in 1991. In 1993, he announced his very first NCHA World Championship Futurity. He described John Tolbert's run as the first horse to show in the finals. Until 2018, this was the only time that the first horse out won the whole thing. The Futurity soon became his favorite show and he settled into a routine of announcing and running the show smoothly.
He "loves doing the Special Awards and watching the phenomenal horses." He rattled off runs like they happened yesterday, remembering the horse, the rider and the score. Holt spoke of his admiration for Modine Smith. He met her as she was the score keeper for the PCCHA for 25+ years. "She was the matriarch of the PCCHA and I loved her like my mama." Her death was very hard on Tom and his eyes glistened as he told of how she saw and loved people. "People like her make the NCHA Futurity a place to visit old friends, make new ones, say goodbye and hope you see them again in 365 days. "
I asked Tom what his favorite part of announcing was, and his response was heartwarming. "I love it when someone does well in the big house. I remember each kid that makes it big and each old timer that has a great run. When someone has a great run, I get all choked up." Holt said that he has a lot of favorites, but that his most memorable night was when Winston Hansma was showing Bobby Pigeon's horse in the finals. "The arena got so loud that he couldn't even hear the buzzer and I had to yell at the top of my lungs, 'Thank you Winston!' and the crowd went wild."
21 events each year since 1992, and Tom Holt still holds the Futurity as his favorite. "Good horses, Good people at THE show in the BIG house!"
Tom Holt not only announces, he runs the show and keeps things on time. He helps enforce the rules and maintain the integrity of the cutter. He always says thank you and loves to visit with people between bunches. Holt is a kind hearted man, who truly loves what he does and does it well! He completes hi task this with professionalism, and a voice that is not reproducible. If you've ever been to an NCHA major event, then you've most definitely experienced and been touched by the voice of Tom Holt: The Voice of the NCHA!
- Katie Miller
.