Rice and Quirk Claim The 40 Open and Non Pro Championships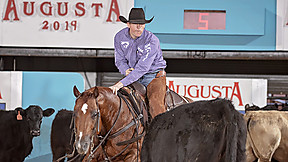 The 2019 Augusta Futurity marks the 40th Anniversary of this historic show on the east coast. The stories about all of the greats that have shown in the James Brown Arena are some for the record books and will forever be a part of this sport's heritage.
The producers of this show wanted to put something together to help in celebrating this milestone and the 40 Open and Non-Pro classes were the result. There have also been several fun social events for all of the participants along with the yearly horse auction and stallion auction. The city of Augusta promotes this show to the fullest and that is something fun to see!
Open
The 40 Open class was a $20,000 added Open Championship cutting much like the Mercuria Energy events that have been produced over the past decade. The ACCHA was generous enough to provide the added money and give these older horses a shot at a formidable check!
In the Open Division it was Tarin Rice riding CR Gotcha Covered (Dualin Boon x The Catattac), owned by Joel and Jayne Colgrove, that claimed the Championship! They marked a 223 to collect $7,756 giving them a nice head start on the road towards the World Finals.
Tarin Rice 40 Open Champion
"Gotcha" has been a great horse from the start for Tarin having spent his whole career in the Rice barn. He has also been a favorite for the Colgrove family and looks to continue to standout even after aged events. There are exciting plans at work for this young stallion and he and Tarin seem to be only gaining in confidence. The next show on their busy schedule looks to be the Ike Derby in Monroe, LA where they are sure to keep impressing us with their standout talents.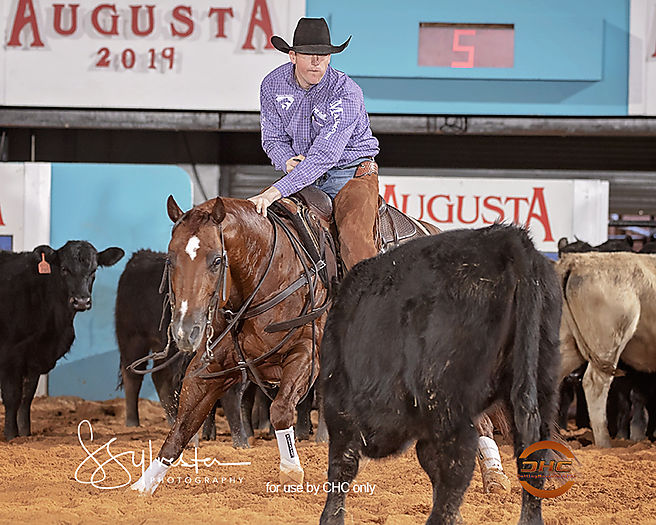 Tarin Rice and CR Gotcha Covered (photo by S. Sylvester Photography)
Reserve Champion was Brett McGlothlin riding Somethingtobelievein (Hydrive Cat x Playin T Etta), owned by he and his wife Jody, marking a 220.5. He and this tiny, but mighty mare collected a $6,229 check also boosting them in the early standings towards the World Finals. It was a great night for Brett as he was also third place in the finals riding Cattalou (High Brow Cat x Louella Again) marking a 219 collecting an additional $4,703.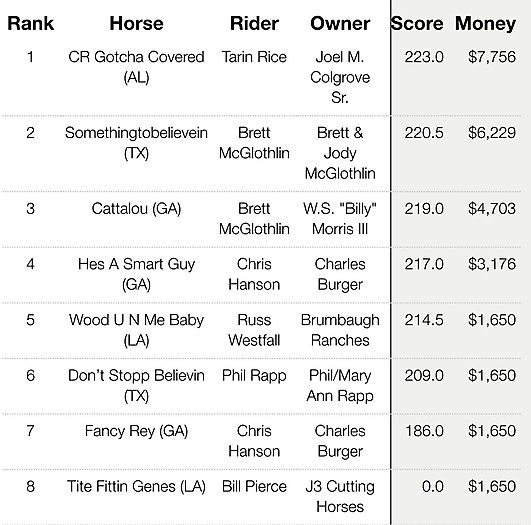 Non-Pro
In the 40 Non-Pro Division the added $20,000 was provided by Miles and Becky Elliot who are from this region and a huge part of cutting on the East Coast. Their contribution also made for a special evening for the Non-Pro finalists.
It was reigning Non-Pro World Champion, Elizabeth Quirk, riding Wood U N Me Baby (Nitas Wood x You N Me Baby), owned by the Brumbaugh Ranchs, that finished on top in a tough set of cattle. They marked a 218.5 to take home an $8,857 check for the win which might just entice Elizabeth to continue down the road. She did not plan to haul again this year, she just wanted to go and show "Karats" a little bit to enjoy the exceptional mare that her parents purchased last year. It looks like it might turn into something more, but only time will tell. Anyone who has attempted the "hauling game" knows it just has to fall into place, you cannot force it! Whether Elizabeth does or does not haul, either way the win was a special one to kick off the 2019 show season!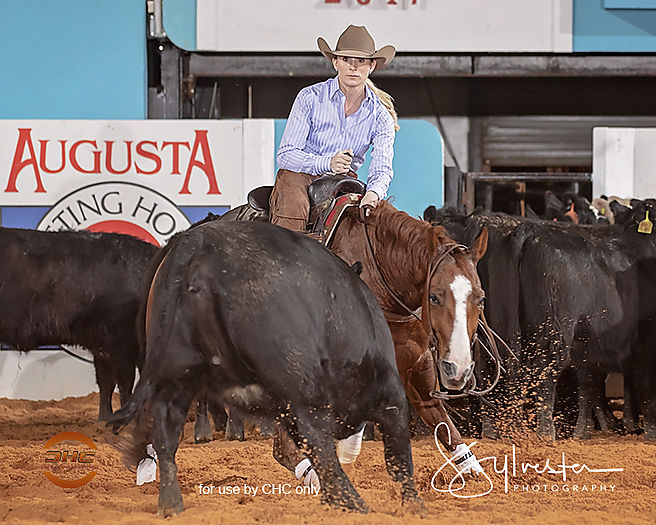 Elizabeth Quirk and Wood U N Me Baby (Photo by S. Sylvester Photography)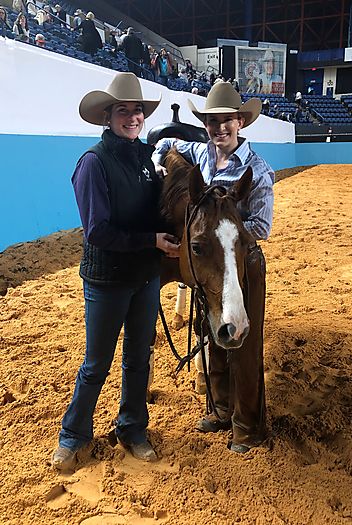 Elizabeth pictured with "Karats" and Candice Ryland who prepared the mare to show
Reserve Champion was Ali Good riding Cat Atat Cat (High Brow Cat x Miss Stylish Pepto), owned by Jim Good, marking a 218. They collected a $7,055 check along with their title. These two have been on fire lately as well having just competed in the 2018 Non-Pro World Finals. They fit together perfectly and handled the tough situation with a significant amount of poise.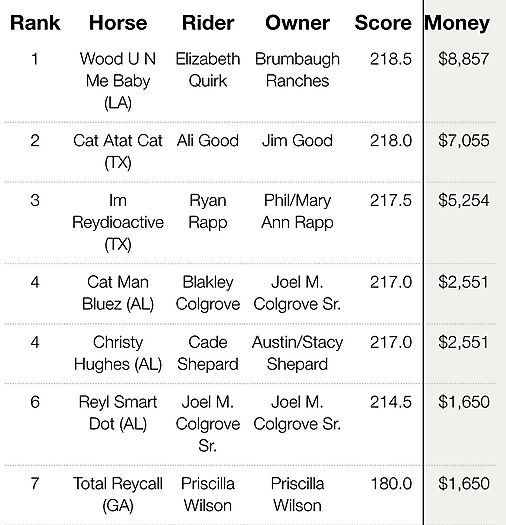 The road to the NCHA World Finals is a long one and who knows where the year will take these talented horses and riders. One thing is certain, it will be exciting! These duos bring everything they have to the table and we are very grateful that shows such as the Augusta Futurity provide an outlet for them to compete.
The 40th Anniversary of this show is something to be remembered along with the people that got it to this point. There are two nights left to go with several Champions to be crowned. We wish the best of luck to these competitors and congratulations to all of the finalists of the 40 Open and Non-Pro!
.