Corey Cushing Reaches Milestones During Snaffle Bit Futurity Open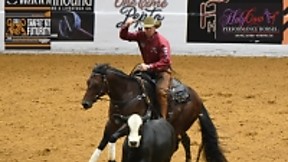 It is hard to describe the atmosphere in the Will Rogers Coliseum on NRCHA Snaffle Bit Futurity Open finals night. It's anticipation, excitement and thrill all swirling around the room and that overwhelming feeling grows as the night progresses. The stands were packed, and the stakes were high, and you couldn't have recreated the energy the finals brought.
After Corey Cushing and SJR Diamond Mist (CD Diamond x Cat Mist) marked the highest score of 223 in the Open finals rein work, it was clear the team would be a contender for the Championship, so everyone paid close attention when they made their way in for the fence work.
Corey Cushing & SJR Diamond Mist
When a fresh and honorary cow stepped out, people were on the edges of their seats. The buzzer sounded for a new cow, and Corey made the risky decision to stick with him anyway. The volume in the Coliseum amplified to the max, and the pair left everything they had out in the pen.
Corey and the stallion, owned and bred by San Juan Ranch, were awarded with a 222.5 from the judges, and that impressive run gave them the edge they needed to come out with a winning 658.5 (213 herd/223 rein/222.5 fence).
"This horse was sent to me as a late yearling or early 2-year-old, and he has been nothing but a pleasure," Corey said after being awarded his third Open Snaffle Bit Futurity title. "He tries his heart out every day, and today he just fired."
Corey Cushing & SJR Diamond Mist
As if winning the Snaffle Bit Futurity Open Championship wasn't sweet enough, there were a few things that made the night especially noteworthy for Corey and his team. He had four Open finalists, and the $125,000 champion's check coupled with the money garnered from his other rides added up to $205,500, which pushed him over the $2 million milestone! Reaching that figure made him the youngest NRCHA trainer to reach $2 million, and that made the accomplishment even more special.
In addition to those finalist checks, Corey earned $25,000 from the CD Diamond Incentive program for having the furthest advancing CD Diamond offspring in the Open. Corey won the Open Snaffle Bit Futurity title with CD Diamond back in 2012, and he said there are some distinct similarities between CD Diamond and SJR Diamond Mist.
"This horse and his dad have a huge stop," Corey said. "Ever since day one [SJR Diamond Mist] gave me a feeling that he could be good down the fence. The cow came out and tested me a little bit and they rang a new cow for me. I had seen numerous people have trouble and get new cows. But I just didn't want him to run out of gas. I knew he could handle it, so I just kept after it. He means a lot to me."



Corey Cushing & SJR Diamond Mist
Corey knows the glory of a big win wouldn't be possible without his loyal customers, and he was quick to extend his appreciation to all of the people who support him.
"This is my true passion and what I love to do," Corey said. "I am blessed with great horses like this, and every horse I show makes me that much better. I can't thank all of my customers enough. Without them, I wouldn't have any of this and it means a lot."

See some of the team's highlights here:

Justin Wright and Scooter Kat (Kit Kat Sugar x Scooters Daisy Dukes), owned by Eric Freitas, took home the Reserve Championship and $87,000 for earning a 656.5 (218 herd/218.5 rein/220 cow).

Justin Wright & Scooter Kat



_______________________________________________________________________________________
Intermediate Open
They say when you really want something, you need to go for it and not leave anything to chance. It's safe to say Clay Volmer did just that during the Snaffle Bit Futurity finals.



Clay Volmer & SDP Hy Rey Bound
He and SDP Hy Rey Bound (TR Dual Rey x SDP Hydrivenhicapoo), owned by Shane Plummer of SDP Buffalo Ranch, gave it all they had down the fence, and with the crowd behind them put together a run nothing short of impressive
After Clay made his last circle, he knew the run was something to celebrate, and he threw his fist in the air with excitement. That feeling continued when the judges gave him a huge 226 down the fence to complete his cumulative 660 (216 herd/218 rein/226 fence) to secure the Intermediate Open Championship by 8 points!



Clay Volmer & SDP Hy Rey Bound
The win was worth $30,000, and Clay was elated with the performance of "Brute"! Clay said he had to give some of the credit of his win to Paul Hansma, because Paul told him after the last year's Snaffle Bit that he thought the stallion would be a good one!
"I'm just happy," Clay said. "I am super happy with the horse. This horse is one of the most all-around horses I have ever had. I thought this horse was exceptional the whole show. He was huge in the reining. He loves to run and stop. He has liked it since the first time I rode him.
"The first cutting didn't work out for us, and that is what kept us from being in the main Open, which is funny since I am the cutter. He was trying to be good everywhere, and in the finals he was good everywhere."

See some of the pair's highlights here:

Jordan Williams and Angel In Blue Jeanz (Metallic Cat x Heavens Little Angel), owned by Wes and Sarah Williams, took home the Reserve Championship and $20,000 for accumulating a 652 (216 herd/218.5 rein/217.5 cow).



_______________________________________________________________________________________
Limited Open
Before the first leg of the Open finals, Jordan Williams was already feeling good, because it was his first time advancing to the Open finals at the Snaffle Bit Futurity. But when he came out with the Limited Open Championship and the Intermediate Open Reserve Championship, you couldn't wipe the smile off his face.



Jordan Williams & Angel In Blue Jeanz
Angel In Blue Jeanz was solid throughout the entire event, and that consistency paid off with a 652 (216 herd/218.5 rein/217.5 cow) for total of $30,745 earned on the mare at the show.
"This horse has just been great from the beginning," Jordan said. "I have had her from the start, and it is obviously the best horse I have had. I have never made any Open finals, so to make the Limited and Intermediate was pretty exciting.
"She has just been a great show horse. She is good at all three events, but she is really great at the fence work because she is so gritty. She doesn't give up. Even when she is out of air, she just gives you everything. We all look for that. She has showed up every day and even got better from the prelims. I came in here and was super nervous, and she took the reins and really took care of me. I am very blessed."



Clayton Anderson & Rooster Cogboon
Clayton Anderson and Rooster Cogboon (Once In A Blu Boon x Roosters Lucy), owned by Troop Quarter Horses, earned a 641.5 (216 herd/218.5 rein/217.5 cow) to take home the Reserve title, worth $12,596.


Congratulations to all finalists, and thanks to Holy Cow Performance Horses for supporting CHC throughout the event and allowing us to get everyone timely updates. We couldn't do what we do without the help of our great sponsors and team.
.