Earnheart and Taboga Take Intermediate Open Championships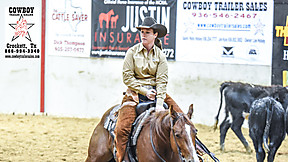 The Intermediate Derby and Classic Open Finals started off the day in West Monroe, LA! These two finals stem from the proposed Leveling System implemented at the 2019 Ike Derby and Classic. They are an innovative way to include more riders and in turn more horses!
Derby Intermediate Open
In the Derby Intermediate Open it was Kelle Earnheart and Hottist (Hottish x Light N Lily), owned by Julie Jarma, who finished on top marking a 220.5! They collected a nice $12,070.60 check for the win. Kelle has been riding cutting horses her entire life, being the daughter of legendary cutting horse trainer Pat Earnheart, but she just in the past two years decided to become a trainer herself. She is a Hall of Fame Non Pro rider with a long list of accolades and no doubt will have a long list in the Open as well.
"Julio" was purchased by Julie Jarma before the NCHA Futurity in the fall and it is looking like a very smart buy. He has a unique way of working that stands out making it hard not to mark him. The duo also made the Derby Open Finals last night making it a great week for them in West Monroe.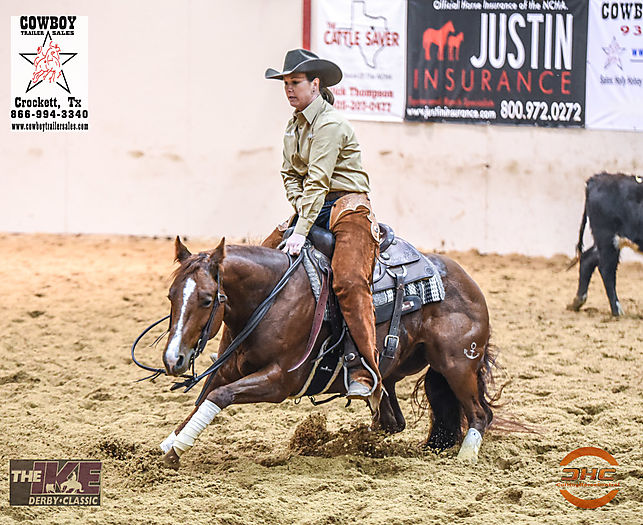 Kelle Earnheart and Hottist
Reserve Champion was Rodrigo Taboga riding Shes Fire And Ice (Spots Hot x That Catomine), owned by Bridget Trenary. They marked a 218.5 to take home a $10,100.29 check. This was Rodrigo's second title for the week on this mare. They were also the Novice Division Champions collecting another $2,587.20 for the win.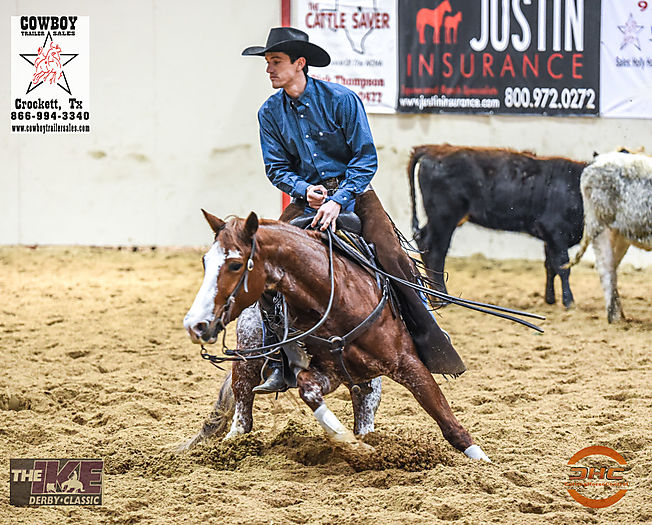 Rodrigo Taboga and Shes Fire And Ice
The Gelding Division Champion was Downvalleycat, owned and ridden by Michael Brown. They marked a 213 in the go round to claim the Championship and the $1,411.20 champion's check!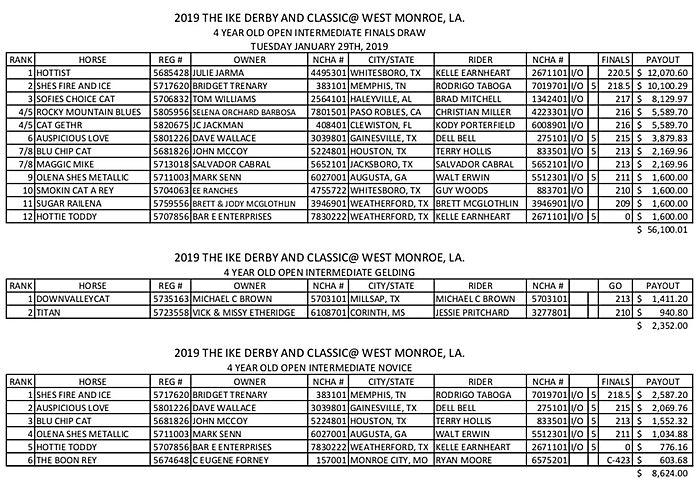 Classic Intermediate Open
The Classic Intermediate Open was the next to go with Rodrigo Taboga standing out among the rest once again! This time it was aboard Desiresomemetallic (Metallic Cat x Desire Some Freckles), owned by Beau and Ashley Galyean, marking an impressive 228 in the last hole of the finals! "Desi" has been a standout mare in Beau's program from the beginning and has been incredibly consistent. Rodrigo being new to Beau's program did not slow her down she was just as good for yet another pilot. This win added another $8,164.60 to her earnings and a third title for Rodrigo for the week!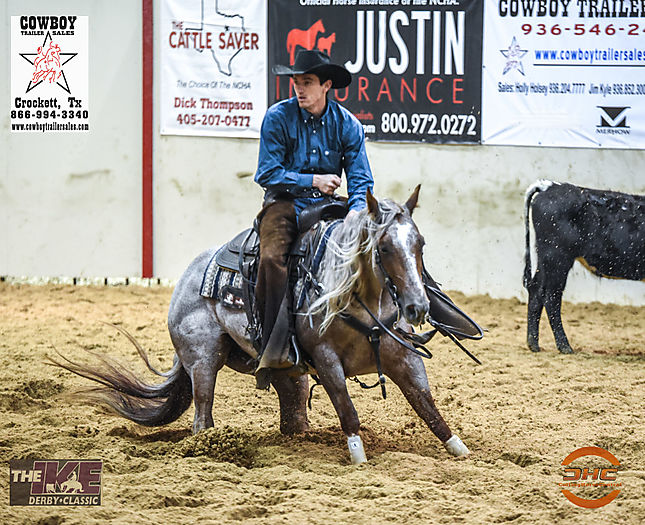 Rodrigo Taboga and Desiresomemetallic
The Co-Reserve Champions were Kenny Miller riding King Ichi (Cat Ichi x Styled By Oak), owned by Sylvia Fuentes, and Cullen Chartier riding Hey Boo Boo (Dual Smart Rey x Travs Scooter), owned by Gordon Roper, both marking a 222. They each received a $6,754.27 check.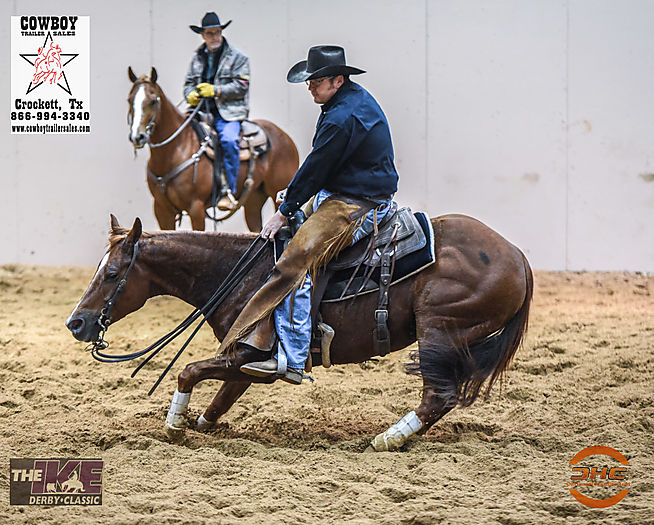 Kenny Miller and King Ichi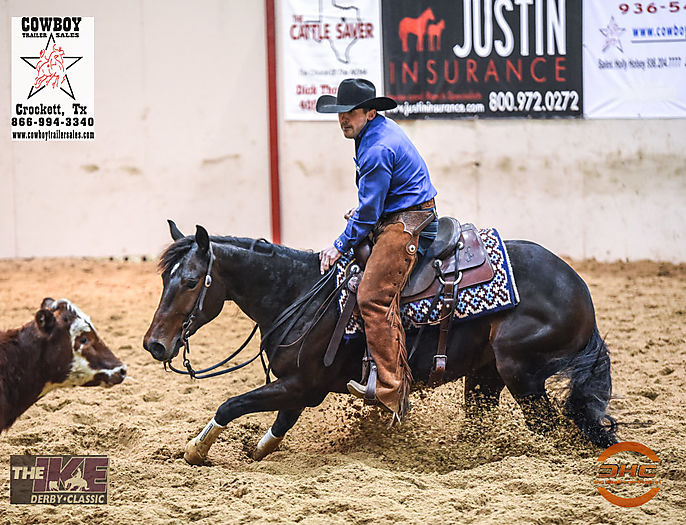 Cullen Chartier and Hey Boo Boo
The Novice Division Champion was Metallic Royal Mate (Metallic Cat x Royal Red Rinpoche), owned by JH Nail Ranch and again ridden by Rodrigo Taboga, marking a 218.5. The duo collected $1,176 to go along with their Championship.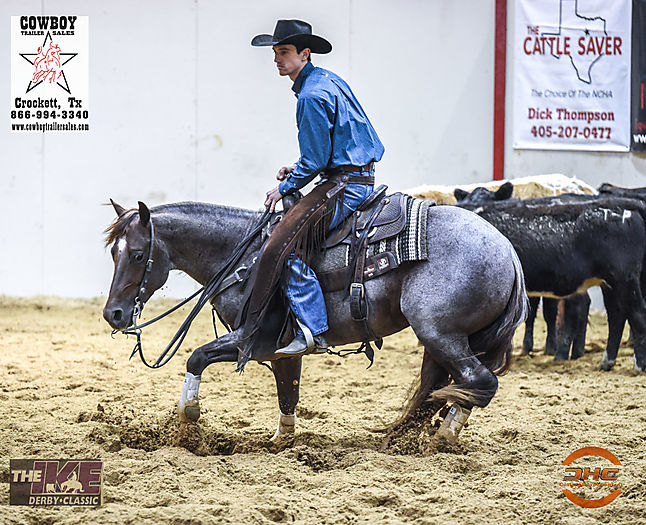 Rodrigo Taboga and Metallic Royal Mate
The Gelding Division Champion was Willie J Rey (Dual Rey x Cat Black I), owned by Charlie and Denise Seiz, ridden by Walt Erwin. They mark a 217 to claim the $1,411.20 Champion's check.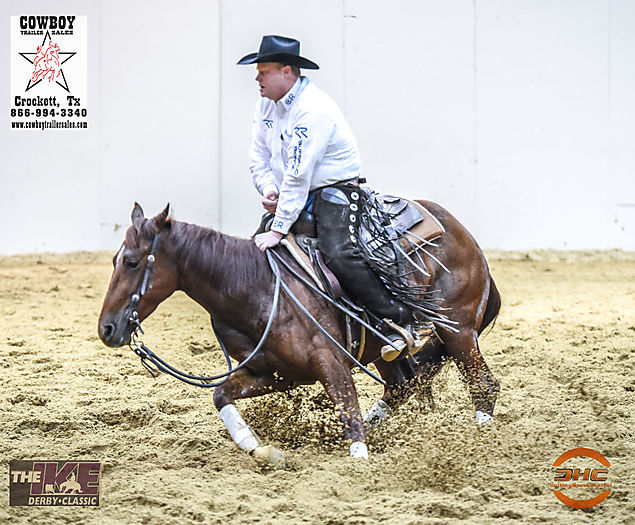 Walt Erwin and Willie J Rey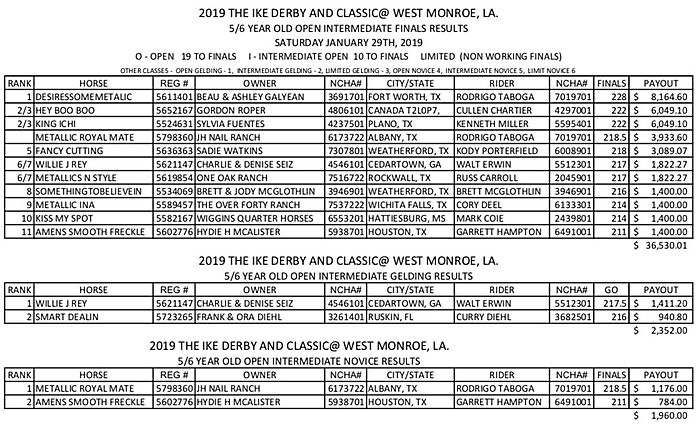 Thank you again to the producers of the Ike Derby and Classic for making these classes a reality and offered more reasons for everyone to get out there and cut! Congratulation to all of the finalists and champions from all of us here at Cutting Horse Central.
.