Non Pros Win Big at the Bonanza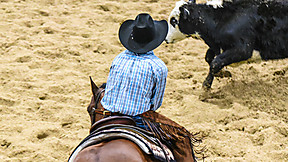 Classic Non Pro
The Non-Pro classes are in the books at the 2019 Bonanza Cutting. In the Classic Non-Pro it was Langston Pattillo and High Stylin CD (High Brow CD x Stylin Playgirl), owned by Blake and Lori Pattillo, claimed the Championship marking a 221! This duo finished as Amateur horse and rider of the year last year and their winning streak seems to be continuing. This was their first ever Non Pro aged event finals and what a way to start things out! They looked as fearless as ever and showed everyone that they were meant to be there. Langston and Jones added a $13,208.80 check to their lifetime earnings for the win! They were also the Gelding Division Champions adding another $2,191.26 to their great day.
Langston Pattillo and High Stylin CD
Reserve Champion was Dustin Adams riding Sly Pepto Girl (One Time Pepto x Sly Playgirl), owned by he and his wife Deena, marking a 218 to claim the $10,567.04 Reserve Champion's check.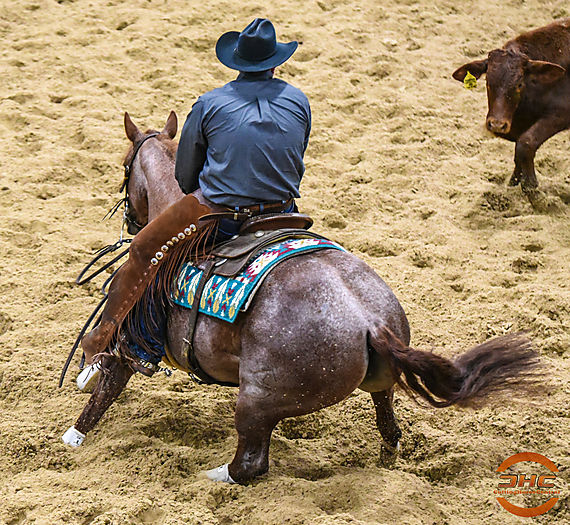 Dustin Adams and Sly Pepto Girl
The Senior Division Champion was Stephanie Sheen riding Metallic Alex -Metallic Cat marking a 216. They took home a $1,662.78 check for the win along with another $1,478.03 for the Limited Division Championship!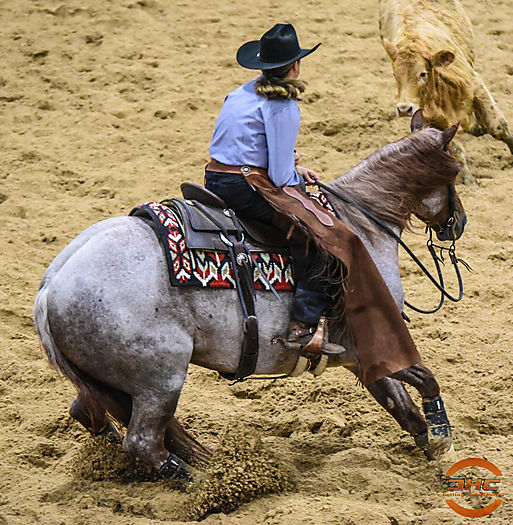 Stephanie Sheen and Metallic Alex
The Novice Division Champion was Already Smooth (Smooth As A Cat x Desires Rey) ridden by Kyle Manion. They collected a $1,546.77 check to add to their earnings in the finals.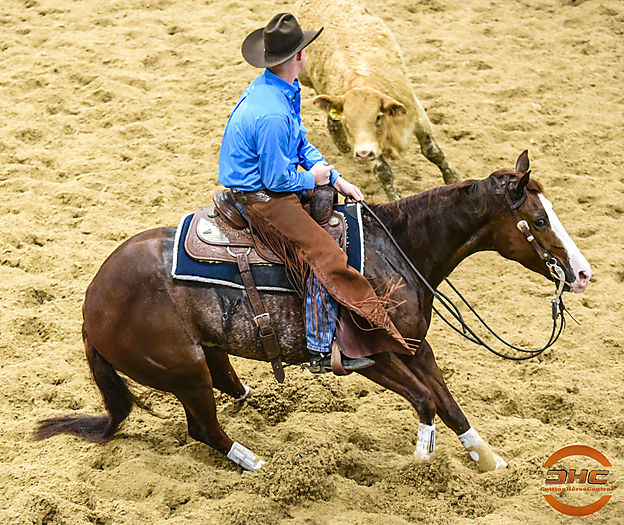 Kyle Manion and Already Smooth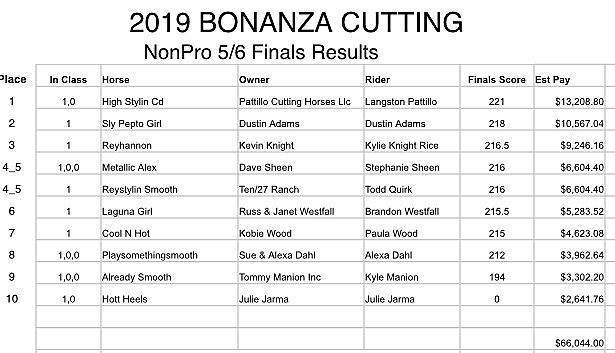 Derby Non Pro
In the Derby Non-Pro Ty Moore and Scantly Clad (Metallic Cat x Scoot A Lil Closer) were victorious marking a 220 for the Championship! He and his mare were also in it to win it starting out their run in an aggressive way. Ty showed the judges he wanted to win and the mare handled the pressure with ease. She is a pretty mover and always bright on a cow. Like so many others coming out of the Moore's program, she was born and raised on their place. There have been countless success stories coming out of this renowned program and the Moore's are mounted to win year after year. This win added $13,734.49 to the young mare's earnings for the year but it certainly will not be her last time in the spotlight!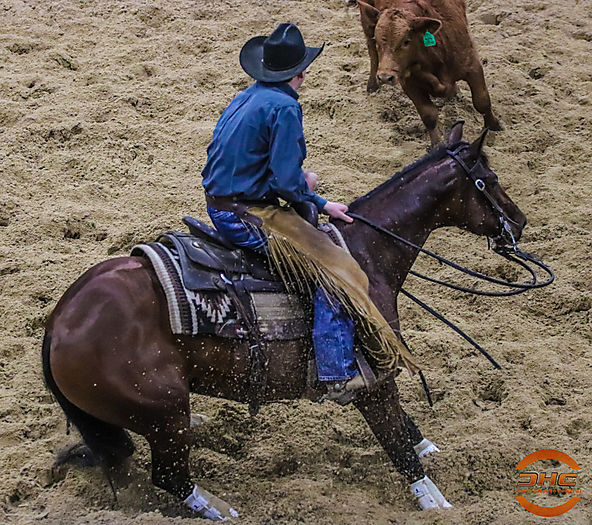 Ty Moore and Scantly Clad
Co-Reserve Champions were Chad Bushaw riding Wood You See (Woody Be Tuff x ARC Catty Dual), owned by the Crown Ranch LLC, and Kyle Manion riding Smoothest Ride (Smooth As A Cat x Zee Dually), owned by Tommy Manion, both marking a 217.5. They each recieved a $9,585.53 check. These two teams also claimed the Novice Division Co-Championship adding another $2,245.05 to each of their earnings.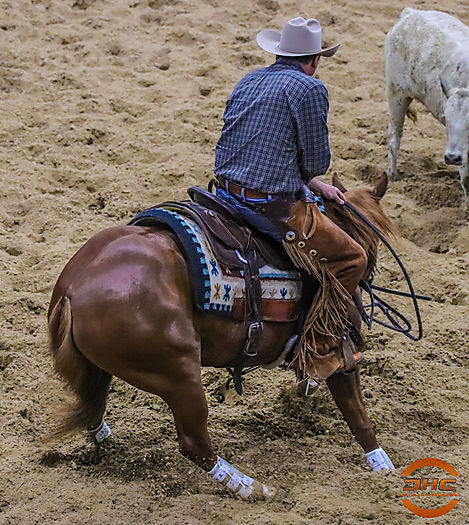 Chad Bushaw and Wood You See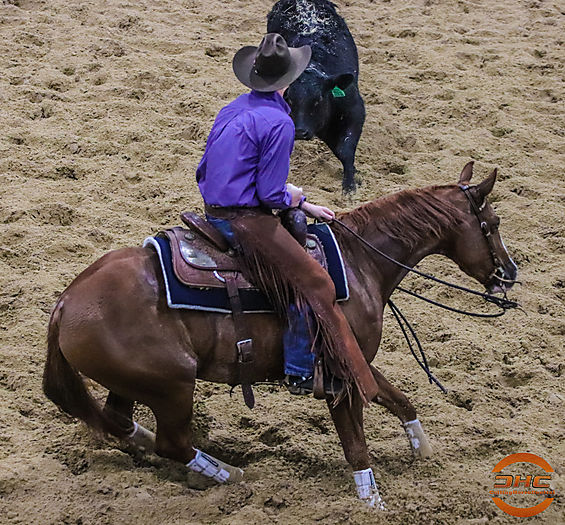 Kyle Manion and Smoothest Ride
Smoothest Ride ridden by Kyle Manion also received the Gelding Division Championship adding another $2,032.35 to their day.
The Limited Division Champion was Leah Hanson riding Haldou Do (Halreycious x Sue Dually) collecting a $1,031.22 check.
The Senior Division Champion was Carol Ward riding Mai Tai Kitty (High Brow Cat X Lahaina Lena) receiving a $1,031.22 check for their efforts.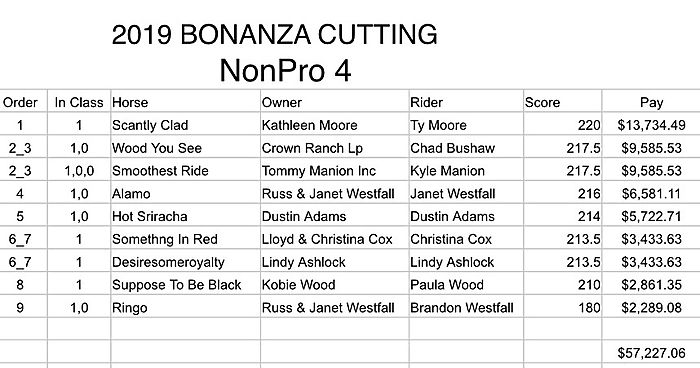 The Amateur riders are left to go at the 2019 Bonanza Cutting and as always it is a busy time with many cutters coming to cheer on their friends and enjoy their favorite pastime. Good luck to everyone involved and congratulations to all of the finalists. Also, a big thank you once again to our show results sponsors Durham Trailer Ranch!
.