Corey Cushing and Shining CD Light Top NRCHA Derby Open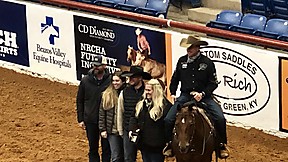 The Tres Osos Reined Cow Horse Derby Open Cow Work just wrapped up, and it was Corey Cushing and Shining CD Light (CD Lights x Jennys Spark), owned by Ophir Creek Stables LLC., who earned the top spot with a 662 (220.5 herd/221 rein/220.5 fence) composite!
The pair picked up a hefty $24,255 paycheck for their runs at the event!
It's always cool to see one of our CHC Livescoring supporters like CD Lights have success at these big events!
Opus Cat Olena (WR This Cats Smart x Opus Chic), owned by BoxO Quarter Horses, and Matt Koch marked a smoking 226 down the fence to take home the top score in the cow work and the overall Open Reserve Championship for $19,290.
Corey Cushing celebrating after his Derby Open win!
Clay Volmer and SDP Hy Rey Bound (TR Dual Rey x SDP Hydriven Hicapoo), owned by SDP Buffalo Ranch, earned the highest score and $1,418 in the Open herd work with a 224!
Justin Wright led the way after the rein work by posting a 222 aboard Shiners Diamond Cat (WR This Cats Smart x Shiners Diamond Lady), owned by Mike & James Draper. They earned $1,418 for leading the round.
Derby Open Top 10
Ben Baldus and CR Tuff Taffy (Woody Be Tuff x PeptoCandy), owned by Sarjane Stanton and Bill Pinckard, put together a 216 in the herd, a 215.5 in the rein work and a 221 down the fence to top the Intermediate Open with a 652.5. The title was worth $7,801, and they banked an additional $433 for topping the fence work.