Milestones Reached In Ardmore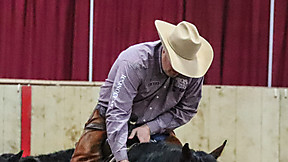 Seems like just last week we were reporting results for our Open riders…oh wait… we were! This first string of shows that kick off each year in the cutting is a long one. It is a long stretch but it is interesting to watch these young horses grow so much in a short period of time.
This week we are in Ardmore, Oklahoma at the 2019 Arbuckle Mountain Futurity and the competition is tough. The extra $100,000 added in the Derby Open attracted a huge turnout as it usually does since this incentive began. In turn, the Classic Open also had a good number which made for an exciting day of Open Finals.
Classic Open
In the Classic Open is was Matt Gaines and Metallic Drifter (Metallic Cat x Ruby Bagonia), owned by James Vangilder, that finished on top! They marked a 222 first out in the finals which has proven to be the "money spot" at the past few shows. Matt has had an amazing show making five out of the six horses he showed here to the finals! This win added another $7,500 to the duo's lifetime earnings. They also claimed the Novice Division Championship to collect a $2,704.80 check, as well as the Gelding Division Championship collecting another $2,469.60. Needless to say, it was a great start to an awesome day for this team.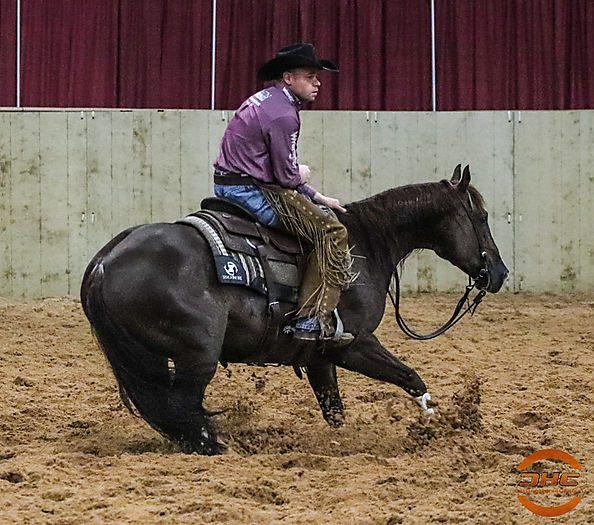 Matt Gaines and Metallic Drifter
Reserve Champion was split three ways between Austin Shepard riding Sir Long Legs (High Brow Cat x Lil Lena Long Legs), owned by Lew Hall, Beau Galyean riding Rollz Royce (Dual Smart Rey x Show Biz Kitty), owned by Thomas Guinn, and Geoffrey Sheehan riding Candi Cat (High Brow Cat x Sweet Little CD), owned by the Beechfork Ranch, all marking a 219.5. They each received a $5,000 check!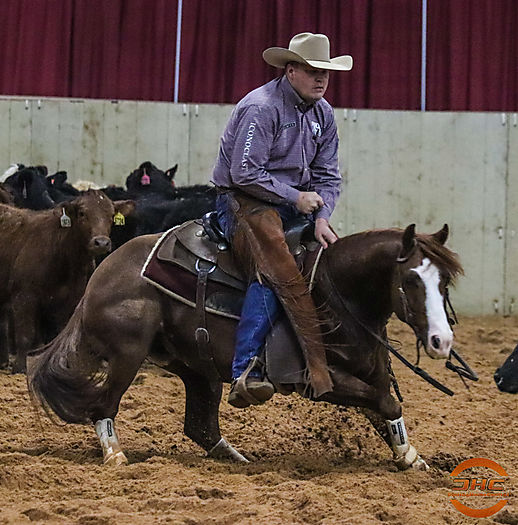 Austin Shepard and Sir Long Legs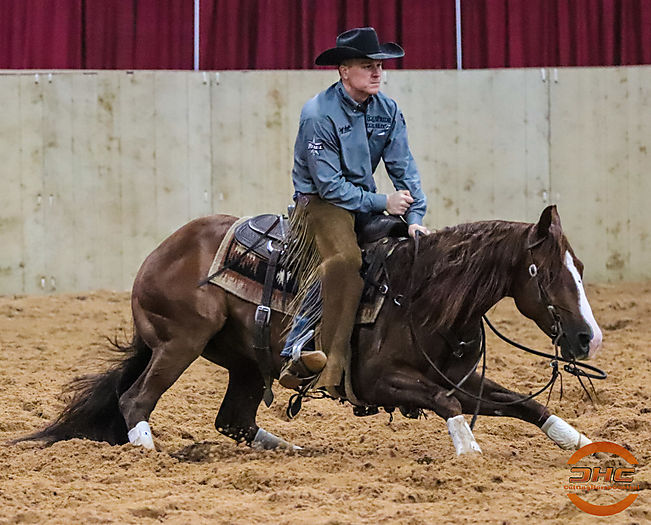 Beau Galyean and Rollz Royce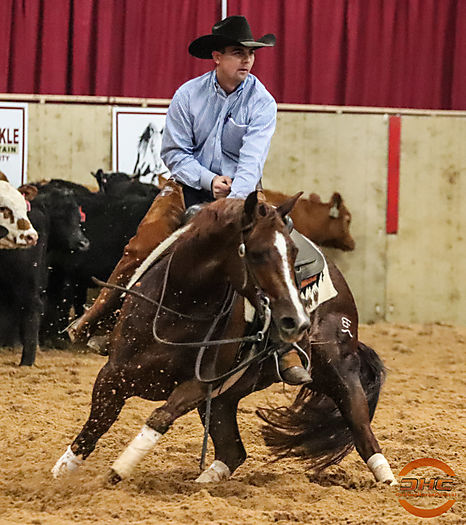 Geoffrey Sheehan and Candi Cat
The Limited Division Champion in the Classic Open was Rowdy Larson riding Johnny English (Metallic Cat x Turtle Pie), owned by Nick Meagher, marking a 216. They took home a $1,658.16 to go along with their title.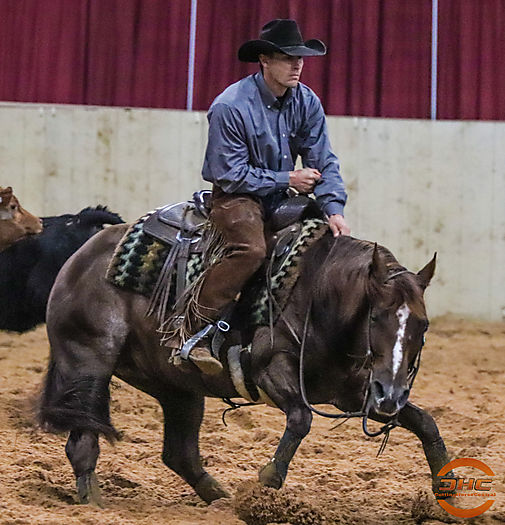 Rowdy Larson and Johnny English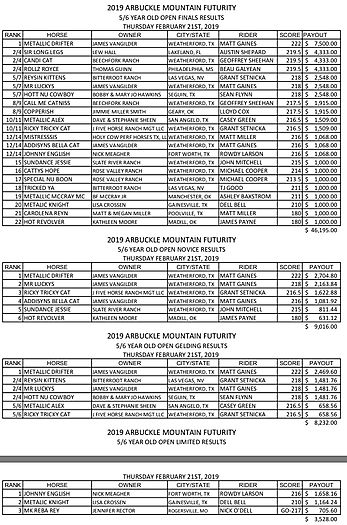 Derby Open
In the Derby Open the top riders looked very similar to the Classic Open. When you get in a rhythm it just comes together. There is so much skill involved in this sport and a great deal of work as well. There is something to be said though, about getting in "that zone".
Austin Shepard claimed his second Derby Open Championship aboard Bama Jelly (Bamacat x Wood She Be Neat), owned by Madalyn Colgrove, for the year marking a 222.5! A win on this horse is always special for this family in that he is by Bamacat, a stallion that they raised out of their mare MH San Tules Dually. It goes back a several generations of horses that Austin has trained making their success a little extra sweet.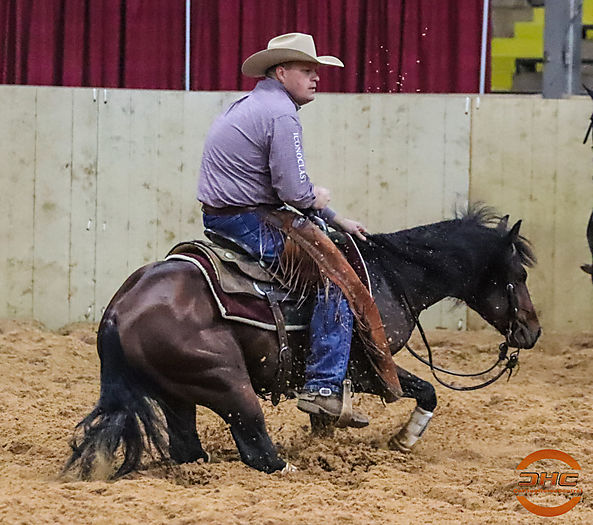 Austin Shepard and Bama Jelly
The $30,000 check that Austin won riding "Jelly", along with the rest of the earnings Austin collected in Ardmore put him over the $8million dollar mark in NCHA Lifetime earnings. He is joining an elite few that have achieved such a feat including Matt Gaines, Lloyd Cox, and Phil Rapp. It is hard to put into words exactly what this means for these trainers that have put their heart and soul into this way of life. There are few that get to this level because let's face it, this sport is beyond challenging. As soon as you feel like you have it figured out you have a show that the getting in "the zone" feeling eludes us! Because of this we wanted to send out an extra congratulations to Austin and his family.
Reserve Champion was another one of the $8million dollar men, Matt Gaines. He continued his stellar day marking another 222 this time aboard Sugaspizevrthingniz (Kit Kat Sugar x Jewels Gotta Lizzy), owned by James Vangilder. They collected a $25,000 check. This along with his Novice Division Championship amounting to a $7,291.20 helped him win over $80,000 in one day!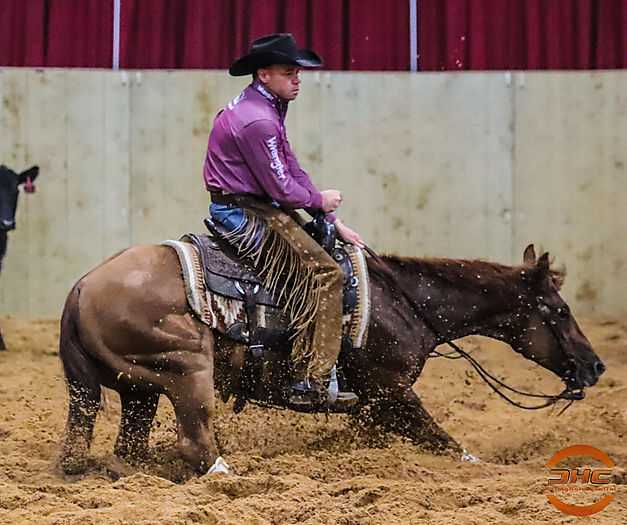 Matt Gaines and Sugaspizevrthingniz
The Gelding Division Champion was Sueper Trooper (Dual Smart Rey x Ichis My Choice), owned by J5 Ranch Management and ridden by Grant Setnicka. They collected a $3,073.28 check for the win.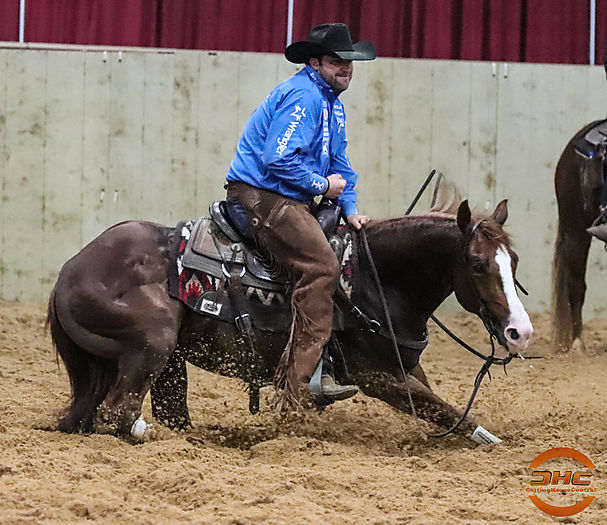 Grant Setnicka and Sueper Trooper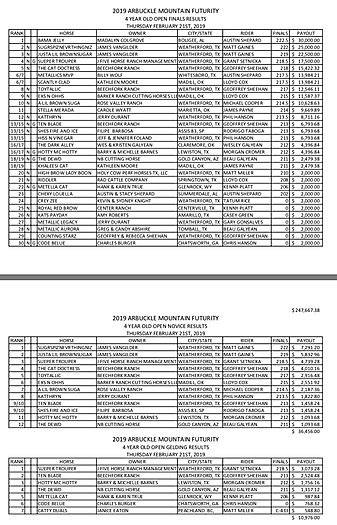 The Limited Division Champion in the Derby Open was Ashley Baxstrom riding Spot Of Hot Metal (Metallic Cat), owned by Kate Robinson. They marked a 222 to receive a $4,690.09 check!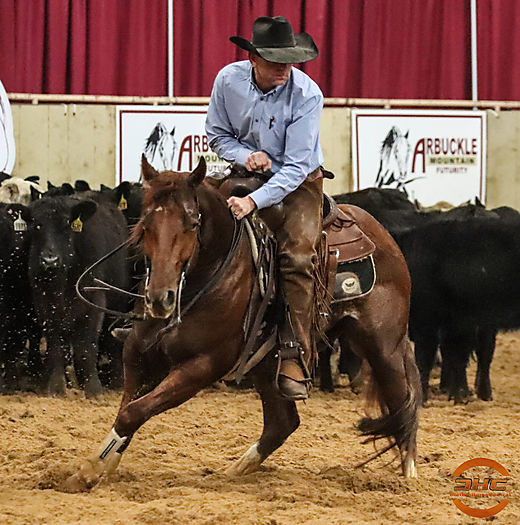 Ashley Baxstrom and Spot Of Hot Metal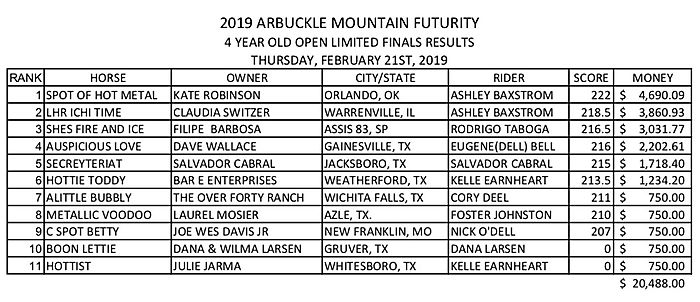 History was made on this day of Open finals here in Ardmore, OK and it was just an overall good day for many. Congratulations to all of the finalists we look forward to the next few days of Non Pro and Amateur competition!
.