Cushing Crushes at NRCHA World's Greatest Horseman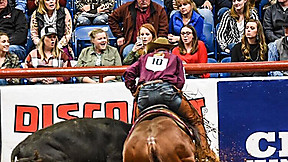 Year-long anticipation and unmatched atmosphere are just a couple of things that give the National Reined Cow Horse Association (NRCHA) DT Horses/Hashtags' World's Greatest Horseman the reputation as one of the most exciting events of the year.
If you wanted a seat for the finals, you had to reserve one fast, because the standing-room only event attracted fans from every corner to see some of the most talented horseman of our time! As expected, this year's finals gave everyone what they came for – a night to remember!
They say the best is left for last, and Corey Cushing and Sonita Lena Rey (Dual Rey x Sonita Lena Chick), owned by Sheri Jamieson, proved that true when they came from the last whole of the fence work to mark a 225 to round off their winning 877!
Corey Cushing & Sonita Lena Rey
Corey won the event in 2015, and has accumulated quite the list of accolades, which he recently added a 2018 NRCHA Snaffle Bit Futurity Open title to. But the talented showman had his work cut out for him in the last rounds of the World's Greatest after sitting 7th following their 212 in the herd work.
The $2 Million Rider was able to stay focused and do just that when he put together a 217 in the reining, a 223 in the steer stopping and a smoking 225 down the fence.
Corey Cushing & Sonita Lena Rey
Corey must get some great momentum for this event from the NRCHA Snaffle Bit Futurity Championship, because his first World's Greatest title in 2015 came just a few months after his 2014 Futurity win and he mirrored that same time line this year coming off of his 2018 Futurity win!
Corey and Sonita Lena Rey collected a hefty $40,000 paycheck to go along with their trailer full of sponsored awards and bragging rights!