Dick Gaines: A Great Horseman, Businessman, Friend, and Father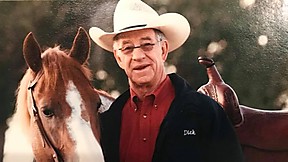 By: Katie Miller
When most people hear the name "Dick Gaines" they automatically think of a great horseman and showman, but he was so much more than that. I took some time and spoke with his closest friends and family. Dick Gaines was a special man in many ways. Dick was a dear friend, father, grandfather and husband.
In 1965, Paul Crumpler was sitting in his living room one evening and there was a knock on the door. The man at the door was Dick Gaines. Paul had never met Dick, but Dick knew that Paul was quite a horseman. He sat down and told Crumpler that he wanted to get into cutting. Paul said that night started a 50 year friendship between him, Gaines, Mike Kelly, Lex Graham and Gaile Boreland. These gentlemen were tight through thick and thin. Paul was quick to tell me that there were "lots of stories, but most can't be told." According to Mr. Crumpler, Dick called him four to five times a week, "and of course he always had something smart to say and I'd just keep the fire going. Heck, I'd make up something and tell him that Lex said it just to get him going." As he laughed, he said he did the same with Lex about Dick. "His daddy was a rancher and Dick was a good rancher. I accused him of getting me in this damn horse racquet. He loaned me the money, you know he was a banker, to buy Quixote and got me hooked." He went on to say that Dick was a good hand and a better man. "We were great friends until he died. He was so brilliant and truly cared about the association, family, friends, and horses. We'd have our little weekly meeting and of course lie to each other, " reminisced Crumpler. "He was the most unique man I've ever met with the driest sense of humor and a personality like no other. He was so highly intelligent, and was good for the horse business and the association." Crumpler went on to describe how Dick Gaines was the brains behind the Super Stakes. He went to visit Dick shortly before he passed and even then Crumpler believed that even through his illness, he was still one of the smartest men he knew. "He was still Dick until a few days before he passed. His sense of humor never left him."
Crumpler went on to talk about Pam, "Dick loved to aggravate people, and especially Pam and she'd fall for it every time. She was such a patient and understanding woman, and she and my wife were best friends, but they had to be 'cause we were always together." Don Crumpler reiterated this sentiment about the two women and about DIck. Don said that Dick was a great father to Tim and Matt and that everyone called him Tricky Dick. He said that it would take a while for Dick to tell a story, but you'd better bet it would be a funny one. He said that with his dry sense of humor Gaines would get you when you least expected it. Don remembered one year it froze over in Augusta and they were traveling home. It took 72 hours to get back home from Augusta, Ga. because of the weather, and he was with Dick and Craig. Don said that was one of the most memorable trips he's ever taken.
Chubby Turner told stories of his humor and ability to lighten the mood in any crowd. Tara Gaines, shared the same feelings about Dick. She said that she knew him before she ever met Matt and that she just loved him. She was honored to be a part of his great family. She has many wonderful memories with Dick and Pam and loves how he loved Pam and the rest of his family.
It seemed that everyone I talked to had the same thing to say. Everyone commented on his sense of humor and his personality, but the one word that each and every person used was "friend". He was a great friend! If you didn't know Dick Gaines, you missed out on a phenomenal human being, and if you did know him then you were blessed by his presence. There were many tears shed during the making of this article, and I only hope that I did him justice in portraying his true character and vibrant personality. Dick Gaines is missed by many on this earth, but we are all certain that he is riding the best and enjoying his friends who went on before him.
.