Matt Miller and Highbrow Lady Boon Claim Cattlemen's Derby Open Championship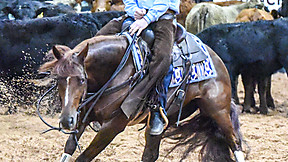 Matt Miller and High Brow Lady Boon (High Brow Cat x RBR Lady Boon) claimed the second Championship for the show at the 2019 Cattlemen's Derby and Classic! They marked a 222.5 late in the first set to take home the Derby Open Championship and the $16,000 Champion's check for owners Holy Cow Performance Horses. They were also the Novice Division Champions as well!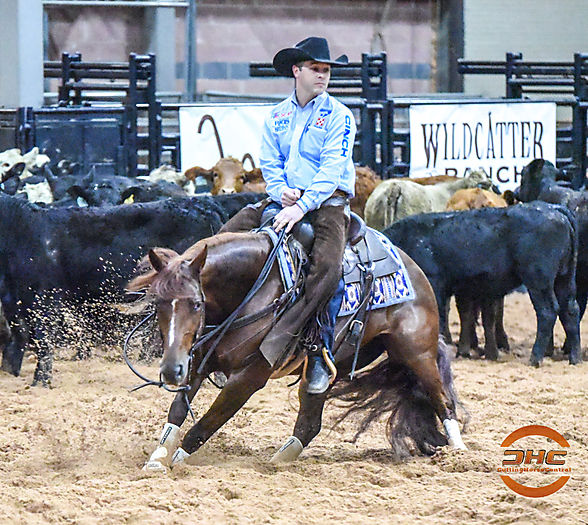 Matt and "Iris" have taken a little time to get used to each other, she was originally trained and shown at the 2018 NCHA Futurity by California trainer Morgan Cromer and Matt has liked her from the start. He liked how quick and cowy she is and always wants to do her job day in and day out. He went on to tell us that really, she just needed to get used to him and it all seemed to come together a few days before this event. She looks to be getting more and more confident having held some tough cows late in the set for the win. They were also finalists just last week at the Arbuckle Mountain Futurity.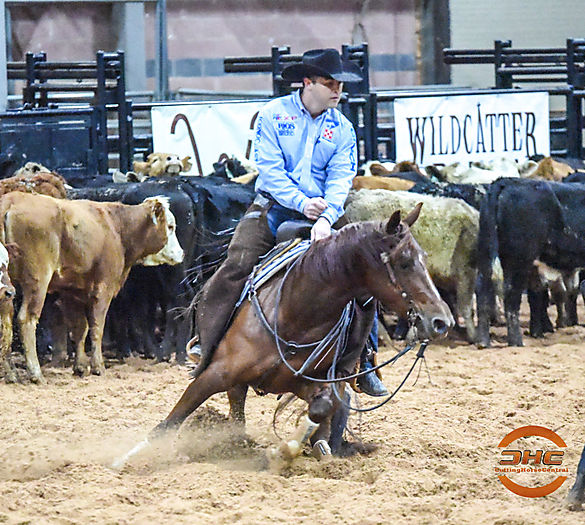 Matt has had a great show having finished fourth in the Classic Open aboard Carolena Reyn owned by Matt and his wife Megan then sixth aboard another Derby Open finalist Catty Duals last night. The whole team is geared up for what looks like a great NCHA Super Stakes coming up at the end of the month!
Watch Matt's Winning Run Below:
Reserve Co Champions both scoring 221's and collecting the $13,250 in prize money were:
Salvador Cabral riding Maggic Mike (Metallic Cat x Sweet Abra) working first in the finals setting the pace immediately. "Chava" owns "Mike" himself and they have been a standout team from the time they made their debut at the 2018 NCHA Futurity where they were Open Finalists. Everything fell into to place last night for this duo and Chava was all smiles when he walked out even before the score came up on the board. "Chava" was also the Limited Open Division Champion adding another title to their day.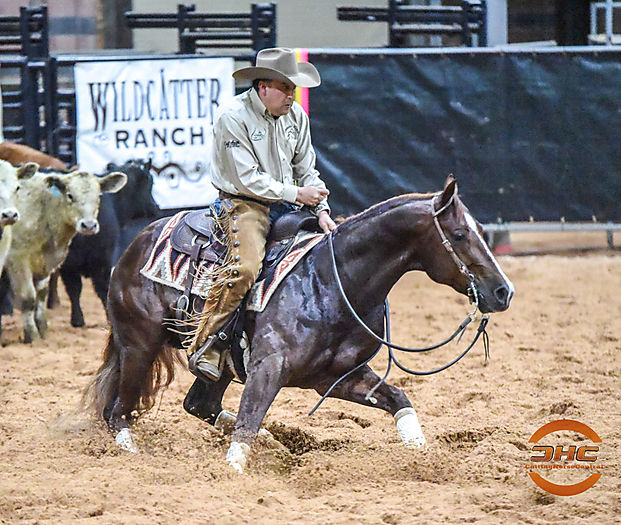 Salvador Cabral and Maggic Mike were Co-Reserve Champions
Tatum Rice riding Crey Zee (Dual Rey x Eazee E), owned by Kevin and Sydney Knight worked out of the 8th hole in the first set and fought off some very fast cows to earn their 221. Tatum and "Reyn" are a force to be reckoned with and have continued their winning ways since capturing the 2018 NCHA Open Futurity Title. This team already has a commanding lead in the NCHA Open Horse Of The Year race and have shown no signs of backing down. They will be one of the favorites at the NCHA Super Stakes later this month.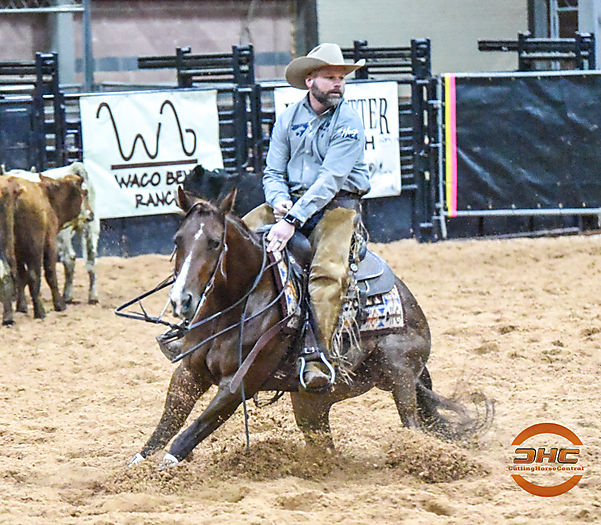 Tatum Rice and Crey Zee were also Co-Reserve Champions in the Open Derby Finals
Open 4YO Gelding Champion:
The Gelding Division Champion was DMAC Kodiak (Metallic Cat x Reyal Money), owned by David and Stacie McDavid and shown by Clint Allen marking a 220. They also finished fourth in the finals!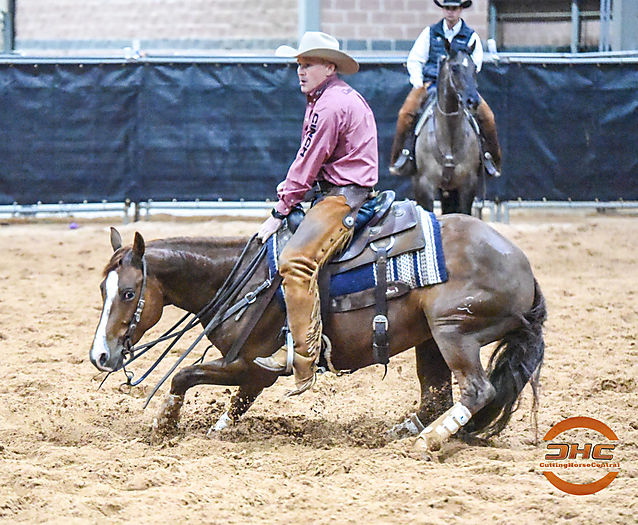 Clint Allen was the Open Gelding Champion on Dmac Kodiak
That concludes the Open competition at the 2019 Cattlemen's Derby and Classic but there is still quite a bit left to go! Good luck to all of the Amateurs and Non Pros competing throughout the rest of the week and congratulations to all of the Open Finalists!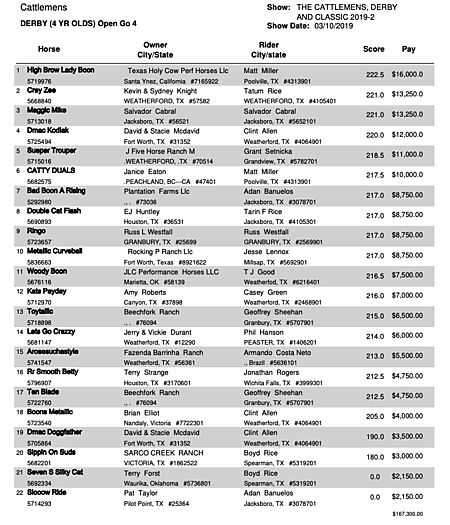 .